Anti-Valentine's Songs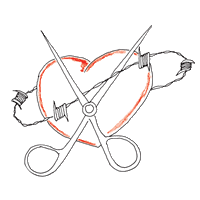 The above design is by Liam Neeson, and it's from
Whatever It Takes
. They sell a wide range of products from mugs to t-shirts to soap, all
ethically produced
.
Registered members vote on whether they want to buy products with certain designs by, say,
David Bowie
,
Dr. Ruth Westheimer, Ewan McGregor
, or
Liam Neeson
.
Each artist chooses the nonprofit to receive funds from products sold with their artwork.
Nearly forty
, including Adopt-A-Minefield and The Lotus Foundation are benefiting.
The Songs:
I don't know why I love you
Your face is a hammer in my head
House Of Love - I Don't Know Why I Love You (7" Drip Of Rockman Mix)
(on the
Splendor
soundtrack)
I've been trying to build a bridge to get to you for so many years
Now it looks like it'll have to be a dam instead to hold back the tears
You won't make me cry
My heart won't break in two
My love is especially for you
The Smithereens - Especially For You
(on
Green Thoughts
)
I want to be good
Is that not enough?
Squeeze - Another Nail In My Heart
(on
Argybargy
)
I'm better off without you
Do you regret all your loneliness?
The Early November - I Want To Hear You Sad
(on
For All Of This
)
You walked out, at first I celebrated
This footloose, fancy-free stuff's overrated
The Pretenders - Nothing Breaks Like A Heart
(on
Loose Screw
)
Now the mirror hurts
And everybody is gone,
And I'm an expert
At pretending that nothing's wrong.
Patrick Park - Nothing's Wrong
(on
Loneliness Knows My Name
and the EP by the same name)
There's a million miles to go
To where happiness lives
Magnet - Where Happiness Lives
(on
On Your Side
and the
Where Happiness Lives
EP)