Former Spain Singer Josh Haden Gets Devoted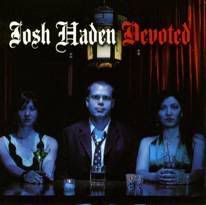 Spain
, led by
Josh Haden
(cue the obligatory mention that he's the son of Charlie and the brother of triplets Petra, Tanya, and Rachel Haden), knew how to make a great melancholy love song.
Ethereal jazz/rock music floats by as Haden croons about doomed relationships, love, and misery. She loves someone else... She left him... She left him a long time ago and he's still not over it. He lied when he said he loved her; he can't ever love her because he's dead inside.
So Spain didn't make loads of chipper songs, but they did make loads of very lovely songs.
Haden is now set to release
Devoted
, his first solo album, on February 13th. It's produced by Dan the Automator. The two worked together previously. Haden and Sean Lennon
were lead vocalists on "Sunshine"
, a track on Dan the Automator's project Handsome Boy Modeling School's album
So... How's Your Girl
. By the producer alone, you wouldn't expect
Devoted
to sound just like a Spain album.
Haden is an in-studio guest tonight on Los Angeles radio station
KXLU
's "Demolisten" from 6-8 PM PST. The station has
online live streaming audio
.
His 2004 EP,
Light Of Day
(named after the excellent title track), is available at
Amoeba Music
in Hollywood, and
Devoted
will also be on sale there. The only other place to get it is from Josh Haden's
online store
.
Haden has a few upcoming shows scheduled in Los Angeles, including his record release show February 15th at
The Echo
.
Haden's Upcoming
Concerts
:
February 15 - Los Angeles - The Echo - CD release show
March 1 - Los Angeles - Tangier
April 10 - Los Angeles - The Temple Bar
Spain - Long Time Ago
(on
I Believe
)