Mojo Presents - Sgt. Pepper... With A Little Help From His Friends CD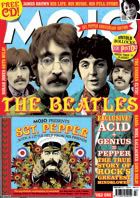 The March issue of
Mojo
honors some not exactly under-touted hippies from Liverpool. It's for a special occasion, though: a tribute to
Sgt. Pepper's Lonely Heart's Club Band
, on the 40th anniversary of its release. Okay, so it was actually released in June. Let's pay tribute to
Mojo
for their enthusiasm! It's a great quality!
Hey, my birthday is in June. It's not my 40th and I'm not a hippie, but I am enthusiastic. Start paying tribute to me now. Let's go. I mean, wooo, let's go, everybody!!
*taps foot*
*sighs*
With Mojo's characteristic excitement, they commissioned a "re-working" of the whole album for this month's free CD. The covers range from pretty faithful to the originals to very different. Simple Kid, Unkle Bob, Captain, Circulus, Chin Up Chin Up, Circulus, and Fionn Regan are among the artists who answered the call to contribute tracks to the disc. Don't know what artists, if any, let it go to voicemail, but we know Mojo was in a hurry. Perhaps musicians need to answer every phone call to be sure they never miss out on this sort of cool opportunity. Tribute compilations may not be able to wait for phone-tag.
The mag. also added a bonus, non-
Sgt. Pepper's
-song, "All You Need Is Love" covered by Echo & The Bunnymen.
It's a strong compilation. Even if you're not partial to The Beatles, you may well also enjoy it. If you like The Beatles, I
especially
recommend checking it out, but I recommend it either way... unless you know
you hate Beatles covers
.
Mojo Presents - Sgt. Pepper... With A Little Help From His Friends

Track Listing:
1.
Simple Kid - Sgt. Pepper's Lonely Hearts Club Band
2. Puerto Muerto - With A Little Help From My Friends
3. Circulus - Lucy In The Sky With Diamonds
4. Fionn Regan - Getting Better
5. 747s - Fixing A Hole
6.
Unkle Bob - She's Leaving Home
7. Bikeride - Being For The Benefit Of Mr. Kite!
8. Stephanie Dosen - Within You Without You
9. Chin Up Chin Up - When I'm Sixty-Four
10. Dave Cloud & The Gospel Of Power - Lovely Rita
11. The M's - Good Morning Good Morning
12. Simple Kid - Sgt. Pepper's Lonely Hearts Club Band (Reprise)
13.
Captain - A Day In The Life
(Bonus Track) 14. Echo & The Bunnymen - All You Need Is Love