Best Poetic Gibberish Lyrics (Zig-a-zig-ah, Yes, Eep Opp, No)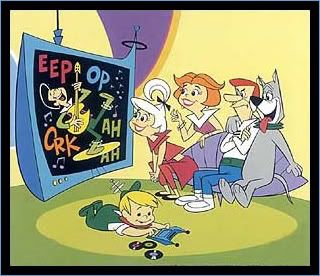 It's not a
great
sign that
Spinner's list of the "20 Best Gibberish Lyrics
begins (at #20, that is) with a line from "Icky Thump". "Yah-hee, icky thump" is gibberish, but is it
good
gibberish? They say they've collected "examples of rock at its most poetic". With a list that includes songs by The Spice Girls, Whitney Houston, and Kid Rock they may not say "poetic" with tongue entirely in cheek, but it's at least partly there. The list also includes, well, quality gibberish" - Little Richard's
"Tutti Frutti" is #1
and several other songs like The Crystals'
"Da Doo Ron Ron"
have endured thanks to similarly catchy nonsense.
The Spice Girls'
"Wannabe" gibberish
is actually a sort of classic. Although The White Stripes are a great band, I think "Icky Thump" is mediocre and forgettable.
The list's topic immediately made me think of one song in particular, written by Judy and George Jetson I immediately clicked my way through the list, longing for the good old days when Interweb sites would post a single list on a single page, and looking for "Eep Opp Ork Ah-Ah (Means I Love You)".
It's not there. Why? Maybe it was omitted because the song provides a translation, to wit:
Eep opp ork ah-ah
Eep opp ork ah-ah
Eep opp ork ah-ah
And that means I love you.
It's at least leagues better than Whitney Houston's
"Exhale" lyric
("Shoop Shoop Shoop", #18)
Maybe for the staff it came down to a choice between "Eep"'s lyrics and the
"Bawitdaba"
lines Kid Rock lifted from street gangs, and they ultimately chose violence over love. If it would have made a difference, the phrase originally
meant "meet me tonight"
, which sounds naughtier as long as you don't associate it with its creator, Elroy Jetson.
Also, if a subpar song by a good band can contain "poetic" gibberish, then Devo's unlovely "Goo Goo Itch" might fit the bill nicely:
Itchy goo, itchy goo, itchy goo goo goo
It's all I wanna do, whammo
Despite the lack of "Eep" and "Goo", major props to Spinner for including a
Ramones lyric
("Gabba gabba, hey" -"Pinhead", #16). The band's quality gibberish earned them that place on the list. It's easy to see many of Spinner's choices, such as
"In a Gadda Da Vida"
standing the test of time when lists like this are made in another 10 or 20 years. As I gaze into my crystal ball, I also see the beloved "Eep Opp", taking its rightful place alongside other classic songs that are both meaningful and meaningless. However, there's no sign of "Goo Goo Itch" in the crystal ball.
* Right-click to direct download any/all of the songs below; I've switched to a new service. *

By default, it renames the files starting with a number. That's something you can change when you download each file, but it's a bit inconvenient. Otherwise, the site seems good! But please let me know if you experience any problems with downloads.
The Jazzronauts - Eep Opp Ork Ah-Ah (Means I Love You)
(fun! On
Swank
. 6 free MP3s from
Swank
, including the swing band's take on the theme from Spiderman, are available at
The Jazzronauts' website
)
Violent Femmes - Eep Opp Ork Ah-Ah (Means I Love You)
(A classic, by gum. On
Saturday Morning Cartoon's Greatest Hits
)
Devo - Goo Goo Itch
(not one of Devo's better songs, on
Hardcore Devo, Vol. 2: 1974-1977
)
The Fiery Furnaces - Crystal Clear
(this wonderful, infectious song is on
Gallowsbird's Bark
and was a single. The Fiery Furnaces will soon resume a
tour
supporting last year's
Bitter Tea
. They'll
release Widow City on October 23
on new label
Thrill Jockey
.)