Rilo Kiley Reveals What to Expect Under the Blacklight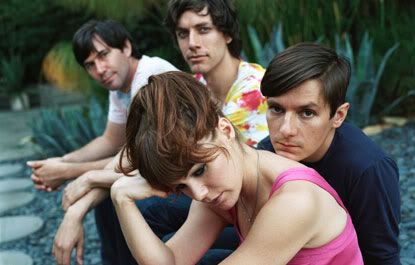 Rilo Kiley
has released the track listing for
Under the Blacklight
, their fourth full-length album, due August 20th in the U.K. and a day later in the States.
A tour is planned, details to be announced.
Rilo's record label, Warner Brothers, dubs Blacklight's 11 songs "gloriously decadent-sounding". Few albums these days, save those "pricey" ones included in costly box sets, are "gloriously decadent-feeling". This is perhaps partly due to the high-profile commercial failure of phat bunny's self-titled EP.
Under the Blacklight
, per Warner Brothers'
press release
, finds "smooth dance beats balanced by the underlying lyrical motifs of the seedier side of Los Angeles life; the characters in the songs embroiled in everything from drunken one night stands to the sex industry."
Those of you who placed money on a "lyrical theme" of "violence", ooh, sorry. Looks like it's "sex" (or at least a seedy variation thereof). Those of you who placed money on Jenny Lewis leaving behind the (unfortunate) country music direction of her (underwhelming) solo debut, ooh, sorry. There's at least one country-flavored song ("15").
"Breakin' Up" sounds more promising to those of us who prefer Lewis in almost-any-kind-of-music-but-country mode. Dubbed (albeit, by Warner) "deceptively catchy and upbeat", the tune "celebrates leaving a jilted lover in the dust". (More song descriptions below.)
Sennett is given credit for the "song craft" on "Breakin' Up", Lewis credit for its lyrics, and apparently at least chief credit for the lyrics of every other song on the album too. Warner describes
Blacklight
's "lyrical theme is of the darker side of life as revealed by a nightclub blacklight, each song's character sharpened to a precise focus by Lewis' unique, undeniable approach."
So Lewis has an undeniable approach? That's not even praise. It might tempt someone to deny she has an approach, just to see if it can be done.
You can deny there are 11 songs if you like, but there are about that many. The absence of "Pull Me In Tighter" pleases me; it's a weak one. Rilo teased having recorded a whole lot of songs, so the number doesn't seem very generous. However, they may have realized only 11 were both really good and consistent with a central, seedy theme. What's a band to do, but go with both quality and seediness?
Under the Blacklight Track Listing:
1. "Silver Lining"
2. "Close Call"
3. "The Moneymaker" - "Lewis is fiery and unrestrained, no more so than on 'The Moneymaker.'" (all quotes from the label's press release)
4. "Breakin' Up" - "perhaps the perfect encapsulation of what Rilo Kiley is: the song craft of Sennett and the serrated edge of Lewis' lyrics - deceptively catchy and upbeat, the song celebrates leaving a jilted lover in the dust" 5. "Under the Blacklight"
6. "Dreamworld" - "Sennett dazzles with the sneaking 70's soul of 'Dreamworld', a song so rich with gold dust that it's liable to take you back to the days of high school mix tapes" (Psst, this reference makes the band look so totally
old
.)
7. "Déjalo" (I'm guessing about the accent mark belonging there, haven't monkeyed with any other titles.)
8. "15" - "a twisted love story of misplaced ardor, gives us the unique idea of what Bobbie Gentry might have had to say if internet dating had existed in her time."
9. "Smoke Detector"
10. "The Angel Hung Around"
11. "Give a Little Love"
Rilo Kiley - 85
(on
The Initial Friend
EP)