A Bouquet of Bands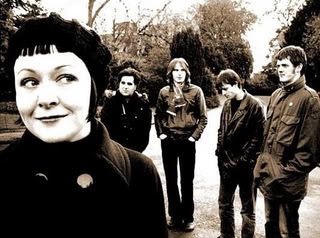 Today, an assortment of music from bands with floral-related names.
There might be a flower band for every gnome in the U.K. Naming your band after a posy or shrub of some sort isn't all that limiting. Some bands opt for fairly straightforward names like
The Posies
and
The Shrubs
, which is fair enough. Many other groups manage to infuse their flowery monikers with plenty of varying shades of color and meaning.
Darkening, or toughening-up a blossom-inspired name provides a helpful signal to the consumer. That signal often amounts to:
Stay away, gramps!
How likely is ol' man Connors, easy-listening-appreciating-guy, that he is, to appreciate
A Thorn for Every Heart
(ow!)? Or
Guns N' Roses
? The name
Pansy Division
is another that might provide something of a "stay away" signal to some people. How about
Savage... Garden
...? Okay, our hypothetical Mr. Connors might hypothetically like them. Savage Garden
took their name from The Vampire Chronicles
by Anne Rice, which compares the mind to "a savage garden". Still, their music strikes me as a bit more garden than savage, somehow.
The Mike Flower Pops
chose a jaunty handle
Hothouse Flowers
went for a languid one.
An offbeat name is something of a risk. Belgian group
Flowers for Breakfast
isn't around anymore, but that isn't necessarily because "Flowers for Breakfast Not Appetizing" headlines proved too tempting for writers to resist.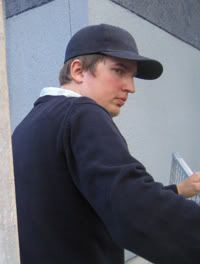 Flowers By Irene
, on the other hand, sounds like a terrible florist-like name at first, until you realize it's an homage to a classic
Simpsons
gag (from before the show began to suck, several years ago).
The bloke recording under this clever name is Sweden's Fredrik Bergström of
The Good Honey Society
. In the past couple days, he's put
11 MP3s
on his website. I haven't heard all 11 songs, but on at least some of them, he tenderly wraps his voice around vulnerable, lovelorn lyrics that deserve to find receptive ears.
Bergström sounds quite a bit like Ben Gibbard, and appropriately enough, he covers
Death Cab for Cutie
's "Title Track".
Flowers By Irene - Title Track
10 more songs
at the Flowers By Irene website. I'm partial to the sad, sweet "The Girl Who", and less fond of "Got Me Good".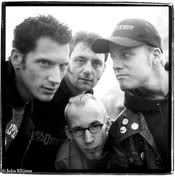 Another band with a name that earns a double take is Dutch punk group
Heideroosjes
(which according to their official biography and website is pronounced "Hi-The Rose-Yes", not "Hi-Duh-Rose-Yes"). According to Wikipedia, the name means,
"the meadow flowers"
and was chosen from a sense of irony, so let's hope Wiki is at least approximately right, or the band just doesn't belong in this post, no matter how good they are. Wikipedia is in the "Hi-Duh-Rose-Yes" camp, so I don't know what to think.
Heideroosjes — Frank Kleuskens (guitar/vocals), Marco Roelofs (guitar/vocals), Fred Houben (bass), and Igor Hobus (drums) — has been together for over 18 years. This spring, they released
Chapter Eight, the Golden State
, in Europe. Japan and the States have to wait a bit longer. The album, described as "a loud mix of punk, hardcore, metal, and folk" (yes,
folk
! Now it sounds really loud!) was recorded in Los Angeles and includes a mixture of English-language and Dutch songs. Maybe Dutch folk music is loud, aggressive, and scary. It's not inconceivable; I did a Google search for Dutch folk art and the first results ranged from homey in a hearts-and-flowers way to skull-laden and violent.
I don't want to suggest Heideroosjes might be less angry with some nice impressionist art, but that's partly because I don't want to risk further upsetting them. (Plus there's some cheerful animation on
Flowers of Disgust
's website, and they're still making songs with titles like
"Everything is Bullshit (Let's Make Out)"
.
Heideroosjes - Homesick for a Place That Does Not Exist
(on
Chapter 8, The Golden State
)
Heideroosjes - I Don't Wanna Wake Up
(on
Chapter 8, The Golden State
- FileGunner disliked the apostrophe in the song title, so I had to take it out before it would let me upload it. The file is still tagged correctly.)
Visit
their website
for a slew of videos and yet another song from
Chapter 8, The Golden State
.
It's a natural transition, now, over to sweet love-centric alt-poppers
Language of Flowers
(pictured at the top of the post).
Language
has released one album, 2004's
Songs About You
. However, the group, originally from Belfast, sounds like an opening act for Lush, who broke up about 10 years ago. In
its first chapter
, Language of Flowers was around at the same time as Lush, but only briefly, and until their first gig, in 1992. At the show, Heavenly's Amelia Fletcher said the band sounded like
Huggy Bear
. Disappointed, the group broke up.
In 2003, Marc McCourt (guitar) and Colm McCrory (bass) from Flowers of Language v. 1.0 added Tara Simpson (vocals), Bentley Cooke (drums), and Ashton Cameron (guitar) to their ranks. The new
Flowers
signed to
Shelflife Records
and released a debut record in short order. A second is in the works, and the band is currently touring.
Language of Flowers - Where You Belong
(on
Songs About You
)
Language of Flowers - Tara Mascara
(on
Songs About You
)
Talented alt-rockers
Bound Stems
[Bobby Gallivan (guitar/vocals), Dan Radzicki (bass), Dan Fleury (guitar), and Evan Sult (drums)] acknowledge that their name is
"a reference to flowers"
but add "or it's a word which has lost its place in the language-the ruth in ruthless, the gruntle which becomes disgruntled. A bound stem depends on its prefixes and suffixes to thrive."
Ah, so it's another of those names that's more clever than it might have appeared at first glance, this time thanks to the multiple meanings of the word
stem
. "The main part of a word to which affixes are added" and that flowery stalk meaning = wordplay gold.
Bound Stems - Western Biographic
(on
Appreciation Night
)
Bound Stems - Andover
(on
Appreciation Night
)
There are 2 more MP3s at
Bound Stems
' website, and another one at
their label's website
(unless you stop by their label's website first — in which case, there are 2 more MP3s at their label's website.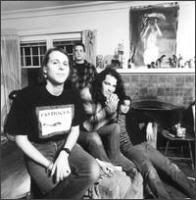 If you'll be in the approximate area of Norway on August 3rd, you can catch an acoustic set by power-pop group
The Posies
. They'll perform at the
Down on the Farm Festival
in Halden, Norway. Bryan Ferry's playing the same day. The next day, the Posies-related
Big Star
, Gillian Welch, and, uh, Shit City. (Now there's a name to proudly tell the friends.)
No other concert dates for The Posies on the immediate horizon, but Big Star is scheduled to play
Connect Festival
at Inveraray Castle on September 2nd and a concert at The Fillmore in San Francisco on October 2nd. Ken Stringfellow
has a couple performances scheduled
: one at Hlava XXII in Bratislava, Slovakia on August 11th and a DJ set at Le Motel in Paris on September 6th.
The Posies - Throwaway
(a wonderful song, on
Amazing Disgrace
and
Dream All Day: The Best of The Posies
)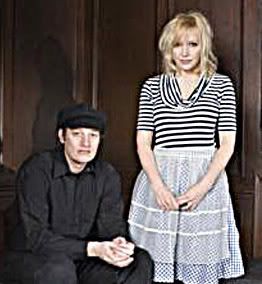 Alt pop-rockers
The Rosebuds
are currently
touring
in support of their latest album,
Night of the Furies
, released in March. The group's Ivan Howard (vocals/guitars) and Kelly Crisp (vocals/keyboards) are
weighing a fall tour "as a bad-ass two-piece"
.
The Rosebuds - Blue Bird
(on their second album,
Birds Make Good Neighbors
)
Flower
songs
coming up?
Maybe
.