Josh Rouse: Country Mouse's City House Songs Released at a Village Pace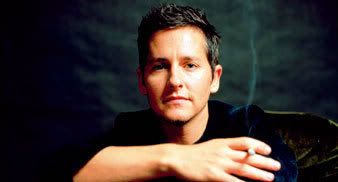 Josh Rouse
hasn't settled on one genre − he's not quite alt-country, folk, rock, alternative, pop, blues, or any of the other genres he flirts with − and he hasn't settled on one release date for his latest album,
Country Mouse, City House
. Instead, until the end of the month, the album's availability will vary by location and format.
It's already available (as of July 2nd) in Spain and Scandinavia. The "street date" in the United States and Canada is July 31st. But if you're an American or Canadian who buys vinyl, you can get it a week early. Perhaps, one might think, that's just Rouse's way of giving his seal of approval to the sound offered by those big old-fashioned records. O but hai, it's available everywhere digitally as of today, the international release date everywhere but the aforementioned countries. Dizzying, isn't it?
Awarestore
makes things a bit more complex, but potentially rewarding by giving those who pre-order either the
Country Mouse
LP or CD a 9-track bonus CD with all demo versions. The bonus disc includes a pair of songs from
Country Mouse
, "Hollywood Bass Player" and "London Bridge" (both are strong, at least in their final versions). Rouse's last solo album, 2006's
Subtitulo
, is also represented, with demo versions of "It Looks Like Love" and "Wonderful". B-sides and 4 unreleased songs are also on the CD.
The final version of the "Hollywood Bass Player" can be heard on one of those handy
"postcard"
s, along with two other tracks. "Hollywood Bass Player" and "Nice To Fit In" are fun, upbeat, mid-tempo songs. "Sweetie" is an earnest, sad little love song. I like them all; the "fun" songs are the most immediately accessible. "Nice To Fit In" sounds like a cut from a Paul Westerberg CD.
Rouse is also previewing a
Country Mouse, City House
track every Monday in July through the 31st on
his website
. Up now: the crisp and elegant "Snowy", which I like very much indeed. If you think you only like Rouse in his rousing mode, give this one a chance to charm you.
Rouse played a sold-out concert in London tonight at Madam Jo Jo's, and has already announced the dates for a European tour, beginning in November. U.S. tour dates will be announced soon to join the few already revealed.
Josh Rouse's Upcoming Concerts:
July 30 - Philadelphia, PA - Tin Angel - if still available, tickets can be purchased from
ticketweb.com
or in person from the venue.
July 31 - Bennett Studios, NJ - Performance and interview at
WFUV
. Tickets will be given away, most likely to
their members
, but that's a guess. (8:00 PM - 9:00 PM)
Confirmation from Josh Rouse's on-the-ball peeps: only those who are part of WFUV's "Marquee Membership" will be eligible for the ticket giveaway. There's very limited space in the studio. (And tickets are a perk for the generous folks who support public radio.) Info on signing up for the Marquee Membership is online. For those who miss out on the invites but are in the NYC area, Rouse's show and interview will be broadcast in the NYC area on 90.7 FM. It will also be online, for everyone.
August 1 - Soho, NY - The Apple Store (103 Prince Street) - 6:00 PM (in-store show)
August 31 - Cincinnati, OH - Coney Island (with Over The Rhine)
November 21 - Murcia, Spain - Theatre
November 22 - Madrid, Spain - Sol
November 23 - Valencia, Spain - Greenspace
November 24 - Barcelona, Spain - Bikini
November 26 - Lisbon, Portugal - Aula Magna
November 27 - Braga, Portugal - Theatro Circo
November 29 - Sheffield, UK - The Plug
November 30 - Manchester, UK - Academy 2
December 1 - Glasgow, UK - QMU
December 3 - Gateshead, UK - The Sage 2
December 4 - Nottingham, UK - Rescue Rooms
December 5 - Bristol, UK - Academy
December 7 - Oxford, UK - Academy
December 8 - Brighton, UK - Concorde 2
December 9 - London, UK - Sheperds Bush Empire
Josh Rouse - Directions
(on
Home
)