Parent Says Toy Piano Demands Sex, Rape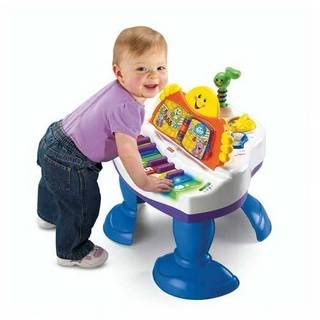 The Fisher-Price
Laugh and Learn Baby Grand Piano
is marketed as "a grand way for baby to explore music, learning and imaginative fun!" They've at least got the imaginative part down pat.
Positioned above the piano is a smiling, "friendly dancing character" who "comes to life as baby plays his baby grand!"
However, as Albuquerque television station
KRQE reports
, some Santa Fe parents are "stunned and angry" at what that character sometimes says once it comes to life. Lanette Rodriguez bought the toy for her goddaughter's first birthday. Little Unique (seriously, that's the poor tot's name), by playing a "Fa-Mi-Re-Mi" combination, allegedly managed to make the character demand to be fucked and raped. According to Unique's mother, Alexis Chacon, "That's all she says now.... Fa. Fa. Fa." Not sure whether she's saying that as shorthand or whether it's just "fa" the kid's repeating, in which case she really has no complaint.
Reporter Michael Herzenberg played the combination in question, but bleeped the alleged obscenity, even though he'd warned viewers at the start of his report to hit the mute button if they're offended by obscenities. (Ooh, that reminds me: if you're offended by obscenities, don't read the paragraph above this one.) Near as I can make out, that "friendly" character really is making sexual demands. Is it "friendly" or "troubled" and "very drunk"? Can't Unique wait until she's 5 or 6 to learn the difference? Is someone at Fisher-Price trying to send their own young kid the message that only troubled trollops hang around musicians? It is called the Laugh and
Learn
Baby Grand Piano, after all. It's educational.
Incidentally, Rodriguez, Chacon, and their lawyer are the only people interviewed during the story, and Chacon is the only one said to be a parent. Somewhere in there must be those "stunned and angry" multiple parents.
* Story found via
Consumerist