Last Town Chorus' Megan Hickey: Writing in Bathrooms & Living Her "Fantasy"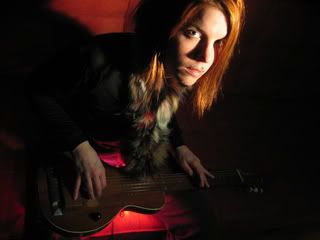 Performing is "like the hour a night when everything makes sense." When I spoke with Megan Hickey by phone yesterday afternoon, her joy in having traded life as a "working stiff" for her "fantasy" occupation as a musician was clear.
Hickey's transcendent, distorted lap steel guitar, ethereal vocals, and poetic, often-storytelling lyrics are the vulnerable heart and strong soul of
The Last Town Chorus
.
It was founded as a duo by Hickey and guitarist Nat Guy in 2001, and the two recorded 2002's
The Last Town Chorus
together. However, Guy left the group in 2004. Since then, Hickey has worked with a revolving cast of musicians, but in the studio (in her home), she does most of the work herself.
She wrote, recorded, and produced the second Last Town album,
Wire Waltz
, released last October. She also contributed "a bit" of keyboards to
Wire Waltz
and doesn't rule out playing additional instruments on her next album. In fact, she said, "I've been playing drums and bass at home a lot lately." On the other hand, she also said it's her "job as a producer and an artist" to get the best person for each instrument and she doesn't think it would be her.
At least Hickey doesn't seem to doubt she's the best person to use the lap steel as she does. The dreamy, yearning
Wire Waltz
features distorted lap steel sounds that at times recalls elements of dreampop, bluegrass, and country, while sounding like Something New-Fangled Someone Should Have Thought Of Before.
The album has, not surprisingly, been warmly received in North America and the U.K. At the end of her current tour opening for Winnipeg's
The Weakerthans
– running concurrently with a
Borders Books
in-stores tour – she'll embark on an Australian tour, including a stop at the
Queenscliff Music Festival
.
Hickey mentioned being often told that her live shows are "a lot more aggressive" than her recorded music sounds. Has she thought about making a live album? "I really have, and the mechanics of making a live album are really intense."
She added, "I think intuitively what will probably happen is I'll record a lot of live tracks in some sort of live environment with a band, and then take those tracks home, and tweak them and expand them in my home studio. I can't let go of that obsessive kind of control and experimentation yet."
Either she doesn't feel this desire for control over everything... or she can control it. To wit, she doesn't need a special environment to pen songs. "People sort of wait for their creative muse to come and take hold, and they have to make space and time for it, and I'm not like that."
Still, it's taken her some time to embrace songwriting while touring. But while she said she's "only recently begun to really make writing a part of being on the road," she's become dedicated. "I try to write in the bathroom." Perhaps it took a bit of time to find inspiration in those "sanitized for your protection" toilet seat bands.
The self-proclaimed "gadget freak" records song ideas into her PDA's voice recorder, and, because of the lap steel guitar's "limited number of chords", begins writing "probably half" her songs on another instrument, such as the drums.
Hickey starts playing new songs in concert "when they're half the way finished... I'll just put in placeholder lyrics or double the words and start developing it." She calls it "great to see the songs develop" while acknowledging it's also "kind of risky to play songs when they're at the germination stage."
In exchange for the risk, a two-fold payoff: a more "muscular" forthcoming album, and progress on the album in advance of entering the studio. She hopes half of it will be "pretty mature by the time the touring is over."
The album itself is also being shaped by the process of touring, according to Hickey. "This next album is taking form sort of in the context of playing live and rarely being home at all, being out with all these people, in strange cities."
In contrast, she noted that with
Wire Waltz
, "I was not a full-time musician at the time. I took 6 weeks of leave.... wrote a lot of the songs on that album in a room, locked in a room... and so there's an insular emptiness to a lot of the songs for me."
See a Last Town show this year and you'll become part of the third album song-developing process, which for this round Hickey compares to a kiln (although neither of us could think of the word; I found it on Wikipedia by searching for "pottery".)
You also might well hear Hickey's rendition of Culture Club's "Do You Really Wanna Hurt Me", getting the kiln treatment en route to a likely spot on the disc. The song was once envisioned
as a candidate for the second album
, but Hickey told me she let it go in favor of "Modern Love".
Last Town's re-imagining of David Bowie's "Modern Love" has also replaced the 1982 Culture Club hit in concert. "I used to play that song at every show for years," Hickey said. "Now with "Modern Love", I tend not to do that as well because it'd become like an 80s cover thing."
"But now that you've reminded me, I'm going to start reintroducing that to tours," she declared, pausing briefly make the necessary notation in her trustworthy sidekick ("sidekick", not "Sidekick", that is). "I'm going to put that task in my Treo task book, and I'm going to start playing it again."
Fret not Culture Club fans, if she hadn't started playing it on tour, Hickey maintained, "I would have remembered it again when I went to record." It's as though there's... some... some sort of fire for the song, burning in her heart.
While affection can fuel her desire to cover a song, for different reasons, some beloved songs feel out of bounds.
"My favorite band is probably The Beatles," Hickey told me. "I only want The Beatles renditions... I'm attached to their renditions of the songs and to their voices."
If she finds a song perfect as-is, again, her inclination is to stay away. "There's no way a Yaz song will ever sound better than with Vince Clarke production and Alison Moyet singing. I wouldn't even go near them."
Also in the no-cover zone: Kelly Clarkson. "I won't cover her because she'd sing me into the ground!" she insisted. Make no mistake, Hickey is a Clarkson superfan. She didn't watch her winning season of
American Idol
as it aired, but she's watching her on
Idol Rewind
. Hickey considers Clarkson's growth over the course of the season "amazing". She's excited to have tickets to multiple Clarkson concerts and waxes rhapsodically about a couple of her country covers.
Hickey, who listens to country stations online, maintained that the "overall level of musicianship and talent is just way higher" in country music. She admires the talent and staying power of artists such as George Strait and Reba McEntire, who are "not just a flash in the pan." She said, "I just get a lot of satisfaction out of country music."
Eclectic musical tastes and not wanting to be "genre-bound" has allowed Hickey to tour with different kinds of artists this past year (including Camera Obscura, Mark Olson, and Michael Penn, who she called "a great guitar player... a powerful guitar player.")
Touring with such a variety of artists puts her in front of a variety of people, something she responds to with a characteristic enthusiasm. "It's great to be playing to really disparate types of audiences... As an anthropology-minded person, I love it."
Without sounding like Pollyanna, Hickey seems to love a lot of things, although the word
appreciative
might be equally appropriate.
She acknowledged some long hours on the road, mentioned the non-optimal winter temperatures in Canada and the Midwest, but said touring was still "a fantasy." And not one of those lousy be-careful-what-you-wish-for
Fantasy Island
fantasies; she said "it's been an honor" to have music as her occupation this past year.
Reveling in her still relatively-new full-time musician's path, Hickey told me she's ready to cede
some
control over her next album. With the help of Pro Tools, reading books, talking to friends, and "very little experience" (other than 7-8 years of demoing her music), Hickey produced and recorded
Wire Waltz
herself. "I really wanted to do it and I have decent ears and I'm a little bit of a geek in technical terms so I just figured it out," she said.
Next time, in keeping with an emerging theme of the next album – a movement away from the isolation of
Wire Waltz
, she's ready to let more people participate, and on a higher level. "I'd like to co-produce it and work with an engineer who has a musician's mentality," she said. "I would love to be able to slide more toward a creative role and have somebody else handle the mechanics of engineering."
And if that somebody doesn't properly appreciate Kelly Clarkson when they first enter Hickey's home studio, well... it's not over.
The Last Town Chorus - Do You Really Want To Hurt Me (Live)
(Recorded at WFMU in 2003)
Several more MP3s, including a live performance of "Modern Love", are available at the
official website
. There are also many streaming audio clips and several links to radio interviews and concert performances.
Megan Hickey Recommends:
♦ The Kelly Clarkson oeuvre, including her
"Up to the Mountain" performance
and her
duet with Reba McEntire
on "Because of "You".
♦ The Beatles remix album
LOVE
, for both those who love The Beatles (like herself) and those who have a hard time getting into them. She says longtime Beatles producer George Martin is "the only person on the planet I think who could do that" and dubs the remixes he and his son Giles assembled "beautiful".
♦ Erasure concerts. She recalled a Festival where they were the one band who really "killed it."
♦ Yaz (a.k.a. Yazoo) -
Upstairs at Eric's
and
You and Me Both
. "I can't imagine any of the songs being done or recorded or recorded any more perfectly than they were on those 2 albums."
The Last Town Chorus Tour Dates:
*All dates other than the Borders in-stores are with The Weakerthans
September:
25 - Minneapolis, MN - Triple Rock Social Club
26 - Lawrence, KS - Bottleneckkets
27 - Denver, CO - The Marquis Theatre
28 - Albuquerque, NM - Launchpad
29 - Tempe, AZ - The Clubhouse
30 - San Diego, CA -
Borders Books (Gaslamp)
- Free performance/signing, 3 PM
30 - San Diego, CA - Casbah
October:
1 - Hollywood, CA -
Borders Books
- Free performance/signing, 7:30pm
2 - Los Angeles, CA - El Rey Theatre
3 - San Francisco, CA - Slim's
4 - Portland, OR - Hawthorne Theatre
5 - Seattle, WA - Neumos
6 - Vancouver, BC, Canada - The Commodore Ballroom
7 - Victoria, BC, Canada - Sugar Nightclub
9 - Calgary, AB, Canada - MacEwan Hall Ballroom
10 - Edmonton, AB, Canada - Myer Horowitz Theatre
12 - Regina, SK, Canada - The Distrikt
13 - Saskatoon, SK, Canada - Louis' Pub
24 - Ann Arbor, MI - Borders Books - Free performance/signing , 12:30 PM
24 - Detroit, MI - Magic Stick
25 - Chicago, IL - Metro
26 - Cleveland, OH - Grog Shop
27 - Pittsburg, PA -
Borders Books (East Side)
- Free performance/signing, 2 PM
27 - Pittsburgh, PA - Mr. Small's Theatre
28 - Washington, DC - 9:30 Club
29 - Philadelphia, PA - Trocadero Theatre
30 - New York, NY - Webster Hall
November:
1 - Boston, MA - Paradise Rock Club
The Last Town Chorus is also part of the line-up for the
Queenscliff Music Festival
, which runs November 23rd through the 25th, but the schedule hasn't been announced yet. Details of an Australian tour will be announced soon; The Last Town Chorus website says the tour will run late November/early December.
"Understanding"
concert clip
(bit blurry at times but the audio's pretty good):