The Last Town Chorus at Borders Hollywood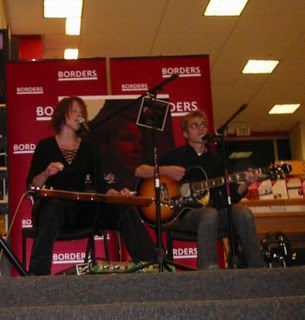 "I heard that Barnes & Noble says they rock harder than Borders."
Last night, Megan Hickey of
The Last Town Chorus
brought her lap steel guitar, stage banter, and tourmate/guitarist Rich Hinman to Borders Hollywood.
The two played an excellent 6-song set as part of The Last Town Chorus'
Borders Books
in-store tour.
They'll stay in town long enough to play the El Rey tonight with
The Weakerthans
and
Jeremy Fisher
. Doors are at 8.
Don't miss a chance to see The Last Town Chorus, whatever the venue (within reasonable limits). The songs, beautiful on disc, sound even more vibrant and rich in person. A bit of this effect might be psychological, because it's pretty cool to see Hickey play and distort the lap steel. It's also always lovely to find artists who don't need their voices sweetened.
You can
read about Hickey's travels
on the road with The Weakerthans chasing fish and photographing "woefully adorable" fans.
Borders Set List:
1. Understanding
2. Wire Waltz
3. You
4. Modern Love
5. Boat
6. It's Not Over
The Last Town Chorus - Change Your Mind
(on
The Last Town Chorus
)