Grammatics - "New Franchise" Made From 80s Bits & Bobs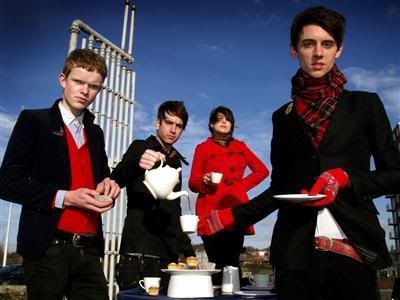 How to Refashion a Modern-Sounding Alt-Rock Song Using 80s Songs Already In Your CD Collection!
*
1. Start with vocals in the vein of Bronski Beat's
Jimmy Sommerville
or
Everything But the Girl
's
Tracey Thorn
. Heaps of talent and the right cadence are required, and the ability to infuse their voice with heartfelt emotion.
2. Along those lines, the lyrics should aim for a
Yazoo
-ish mix of heart and vulnerability, and the music be well-suited to driving (particularly driving at night).
3. Everyone loves the drums from
The Chemical Brothers
' "Let Forever Be"! Mayhaps borrow inspiration from them. Fun, slightly-stepped-up drum beats will help change the flavor of your song if it's sounding a bit too "Bronski Beat/Everything But the Girl".
4. Adding an
Erasure
-esque choral section toward the end can also help mix things up a bit.
5. A secret ingredient is synth. A healthy dose of keys under the right hands will prevent your song from sounding like the answer to "80s Music: Will It Blend?"
6. Another secret ingredient: cello. Long respected by alternative musicians, but nonetheless underused, it mixes well with the usual alt-rock string instruments.
*plus additional musical instruments, bandmates, and talent which you may or may not already have.
Leeds-based quartet
Grammatics
has opted to give away magically-synthlicious third single "New Franchise", an earnest and surprisingly modern-sounding blend of 80s new wave and electronic influences and quirky raw talent. Not sure why something so kinda-reminiscent of other music also sounds so fresh, but it does, and it's also very good.
"I'm opening a new franchise, with my baby," sings Owen Brinley, in a distinctive voice that initially reminded me of Tracey Thorn, then of Jimmy Sommerville. "It calls over and out/It cries over and out/"To all the teenage mothers...Don't be afraid." Whoever else he brings to mind (if anyone), Brinley is a very talented, emotive and offbeat vocalist. And I'm sure such a sensitive, caring young man has a very good reason for feeling 20 year-old mothers are somewhat less deserving of a fear-free life than 19 year-old mothers. Really, it's a sweet and well-meaning song; how sad that people in the UK don't have the right to a fear-free life! Possibly even non-mothers deserve that! I'm tempted to throw a teabag across the room as a symbolic gesture of empathy for teenage mothers (and, for some reason,
only
teenage mothers. I trust Grammatics.)
The song bounces along, largely powered by a tireless synth (Brinley, also the group's guitarist) and standout drums (Dominic Ord), somewhere in the overlapping territory shared by Driving Songville and the Land of 1000 Dances. Rory O'Hara adds a strong bass and backup vocals. Emilia Ergin also contributes backup vocals, as well as a sharp cello that interplays nicely with the bass.
Grammatics - New Franchise
The group's second single, "D.I.L.E.M.M.A.", released in April, is positively cello-laden and wonderful. It also sounds completely different than "New Franchise", partly because of its heavy emphasis on the cello, guitar, and bass, rather than synth and drums. Brinley's quirky vocals bring potent earworm potential.
Grammatics are currently recording their first album; their label
Dance to the Radio
expects to release it early next year, and my expectations are nice and high.
The group's previous two singles are available from Dance to the Radio's
digital store
. One can also go the old-fashioned
tangible route
(though their first single isn't available that way, no can do.)
Videos:
The "New Franchise"
video
is fairly straightforward...
Given the similarly-patterned plaid shirt in Bronski Beat's
video for "Smalltown Boy"
, I choose to believe the plaid content in the "New Franchise" video (Brinley's scarf) is a "shoutout", as the kids say, to Bronski Beat, and a way of acknowledging them as an inspiration. Then again, I also think Brinley
might
have worn a red sweater because he lost a bet with his best friend, Chris De Burgh, who thinks it's funny to coerce male friends into wearing red and then sing his cringe-inducing hit song "Lady in Red" to them.
The
video
for "D.I.L.E.M.M.A.":
Grammatics Concert Dates:
August:
9 Newcastle - Academy 2 (10 PM)
12 Cambridge - Portland Arms (10 PM)
13 London - Barfly (10 PM)
14 Derby - The Venue (10 PM)
15 Leeds - Brudenell Social Club (10 PM)
16 York - Fibbers (10 PM)