On Sandwiches & Springsteen: What Do McCain & Obama's Tastes Reveal?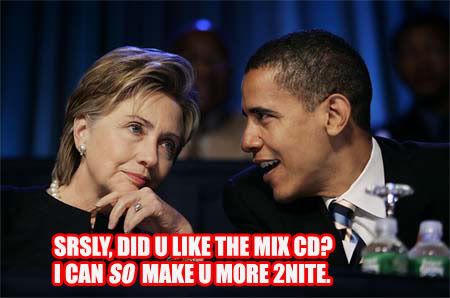 So what have we really learned from the recent publicatio of the
candidates' top 10 favorite songs
? Is there anything interesting or relevant about John McCain's fondness for ABBA or anything else about these lists?
Tiny Mix Tapes responded to Blender
with
at-least
a moderately-sized amount of anger, asking, "Who fucking cares?
They argue that given "this opportunity to speak with our potential future leaders",
Blender
should have asked important, and apparently rather pointed questions, given their examples, which include phrases such as "magical money-dust".
However, there is no indication in the print or online version of the piece that
Blender
had any direct interaction with either candidate.
We're told that "
Blender
polled Barack Obama and John McCain for their top 10 songs." Most likely, an initial email was sent to each campaign's press office (
Tiny Mix Tapes
is equally free to contact them.) At some point a staffer probably emailed or faxed the lists. It's unlikely anyone from
Blender
personally requested these top 10 lists from the candidates, let alone had a chance to spring the suggested Spanish Inquisition on them.
Assuming unscreened questions were not possible, was this piece worth running?
I'm both a fan of lists, and burned out on them. There's such a glut of lists. While some are interesting and creative in an unforced way, too often the format is used to trot out some gimmicky, cheesy self-promotion.
McCain and Obama's lists are blatantly self-promotional and somewhat cheesy and there's nothing creative about a top 10 list of favorite songs. Still, I find the musical tastes of Presidential candidates inherently interesting. On the other hand, I have no interest in what music Michael Phelps enjoys.
Such lists arguably have historical value. A long-term comparative analysis of the musical tastes of major Presidential candidates might prove illuminating as to the personalities and characters of those who run, those who win/lose, those who win/lose by a wide margin, those who are at the center of Presidential scandals, and those who are (un)popular Presidents
Some research likely overstates the value of learning someone's music (or other pop cultural) preferences, but for the record (so to speak),
research
has indicated a link between musical preferences and "openness", "self-views (e.g., political orientation), and cognitive abilities (e.g., verbal ability)."
It's exceedingly likely that campaign staff helped shape each playlist; the lists should be read in that light. It stands to reason that, most importantly, officials would want to exclude any songs that might embarrass their guy, offend voters, or create controversy. Beyond that, the lists are a sort of PR opportunity. The song choice can be used to try to reshape a candidate's image (eg, "Hey, that new song I love; maybe he's 'young-at-heart!'"), reinforce the impression of a quality where he polls strongly (eg, "He likes songs about change; that's because he's "the change guy!"), or play up to some of this election's 430 demographics.
Latest Poll Reveals 430 New Demographics That Will Decide Election
A
Georgia Tech/Palo Alto Research Center study
focusing on music playlists and downloading at a mid-sized company found non-politicos were also quite careful about deciding what music to share. According to Amy Voida, the lead author of the study, "The music that some people decided to hide from others was in many ways some of the most personal music they had, ethnic music or music that they had created themselves."
Such selective sharing isn't surprising among co-workers, and it shouldn't be surprising if we're being given a message-minded, carefully-crafted version of the candidates' preferences.
Indeed, in June, Joe Queenan, who has written that "Nothing
defines personality
more than musical taste," accused Obama of presenting
Rolling Stone
with an
iPod playlist
that was
"masterfully selected" to appeal to baby boomers
.
The relevance of lists like these increases when reading them as Queenan does—thinking about what messages each candidate might be trying to convey, and to who.
More likely than not, at least one political advisor played a role in the deicision to list the Bible as one of Barack "Christian" Obama's favorite books on his Facebook page. The same goes for John "fit-to-lead" McCain's epic-length list of the many aerobic activities he enjoys under the list of Interests on his Facebook page. But more about the Facebook pages after those top 10 songs...
John McCain's Top 10 Favorite Songs:
1. ABBA - "Dancing Queen"
2. Roy Orbison - "Blue Bayou"
"Blue Bayou" video
:
3. ABBA - "Take a Chance on Me"
4. Merle Haggard - "If We Make It Through December"
5. Dooley Wilson - As Time Goes By
6. The Beach Boys - "Good Vibrations"
7. Louis Armstrong - "What A Wonderful World"
8. Frank
- "I've Got You Under My Skin"
9. Neil Diamond - "Sweet Caroline"
10. The Platters - "Smoke Gets In Your Eyes"
Message He's Trying To Send:
John McCain has pretty cool taste in music, maybe I
should
"Take a Chance" on him!
Message He's Really Sending:
John McCain just saw
Mamma Mia
, thought those songs were new and including them would make him seem with-it. He probably thought putting those songs on the list would make no one notice the rest of the list is all dudes.
Get Him Further Under Your Skin:
Last December, McCain named
ABBA and Orbison as favorites
in a
Dartmouth Review
interview. "The music that I enjoy most young people would define as ancient, archaic, and boring," he told the paper, boldly unafraid to stereotype "young people" as judgmental, "haters" who lack the attention span for music that sounds like it was made more than a couple years ago.
McCain told the paper he likes Elvis Presley, and asked about the Beatles, claimed to like them, adding "I don't think they ever did anything good after '67". Asked if he has a favorite song of theirs, he replied, "I like 'Hey Jude.' You know, that's one of my favorites. I love 'I Want to Hold Your Hand.' I have many." (Per Wiki, "I Want to Hold Your Hand" was
recorded in 1963
, and "Hey Jude" was
recorded in 1968
.)
While no one should accuse McCain of spending too much time learning about music history, or keeping up with current music, at least he likes some rock, along with the more expected, though lovely classic songs that made it to his top 10 ("Blue Bayou", "As Time Goes By", "Smoke Gets In Your Eyes"). His enjoyment of the Beach Boys and ABBA might indicate some degree of playfulness; they might also be included to try to make McCain seem younger.
As for the particular ABBA songs he chose: "Take a Chance on Me" seems like a blatant wink-nudge to voters and, "Dancing Queen" with its ever-so-slightly-naughty lyrics about a 17-year-old who teases via dance, says "I'm not so stodgy!" (Well, it doesn't say he thinks he's a Dancing Queen...) The inclusion of ABBA might be a sound (so to speak) move to help give McCain a somewhat livelier image, particularly in the eyes of the younger-skewing group who read
Blender
, and will read about their article. The list still reads "old person", though, partly due to the complete lack of modern music.
MP3s:
1. Dooley Wilson - "As Time Goes By"
2. Roy Orbison - "Trying to Get to You" (covering Elvis Presley)
3. Belarus - "Here, There and Everywhere" (covering The Beatles; the original was recorded in 1966)
4. Steve Forbert - "It Sure Was Better Back Then"
Barack Obama's Top 10 Favorite Songs:
1. Fugees - "Ready or Not"
2. Marvin Gaye - "What's Going On"
3. Bruce Springsteen - "I'm on Fire"
I'm on Fire (live 1988 video)
:
4. Rolling Stones - "Gimme Shelter"
5. Nina Simone - "Sinnerman"
6. Kanye West - "Touch the Sky"
7. Frank Sinatra - "You'd Be So Easy to Love"
8. Aretha Franklin - "Think"
9. U2 - "City of Blinding Lights"
10. will.i.am - "Yes We Can"
Message He's Trying To Send:
Barack Obama has "cool", eclectic tastes and enjoys inspirational music, which wlll help motivate him to change our world.
Message He's Really Sending:
Barack Obama is a regular guy...just like anyone else, he likes feel-good songs, music by people who say nice things about him, and the occasional swell song with somewhat cringe-inducing lyrics.
Not Finding Him Easy to Love Yet?
In June, Obama gave
Rolling Stone
that aforementioned look at the
songs on his iPod
. It included over 30 Bob Dylan songs, some Yo-Yo Ma, Miles Davis, John Coltrane, Charlie Parker, Joni Mitchell, Van Morrison, George Jones, the Knack, Jay-Z, and Bruce Springsteen. In an interview with the magazine, Obama also said he likes Elton John, Sheryl Crow, the Rolling Stones, and Earth, Wind & Fire.
But what about Frank Sinatra?
That artist (who I can't stand because he was such a despicable person) is the only one on both top 10 lists. They chose his take on different Cole Porter songs and gave them a similar place on their list (McCain put "I've Got You Under My Skin at #; Obama chose "You'd Be So Easy to Love" at #7.)
Is it a bit odd that in August one of Obama's top 10 favorite songs is by Frank Sinatra, but in June, his iPod was Sinatra-free? Maybe it's an indication that Obama, at heart is a
"Springsteen guy"
.
A couple years ago, Joe Queenan wrote that although some (including himself) like both singers, "when push comes to shove, an enormous number of men between the age of 35 and 100 know in the secret caverns of their hearts whether they are Springsteen guys or Sinatra guys."
"Springsteen guys," it seems, "are fun-loving but sincere chaps who strongly identify with the working class, even though they almost certainly do not belong to it."
According to Queenan, Sinatra holds fantasy associations for baby boomers, a notion of "a mythical America we were born too late to experience"... roundabout the 50s and 60s "when Southern California was paradise". (Is he implying it's no longer a paradise?)
Might one kind of guy be better than the other as a President?
For what it's worth, the loathsome
John Edwards also likes Springsteen
, in particular "The River" ("No wedding day smiles no walk down the aisle/No flowers no wedding dress").
Although he
used "Born in the U.S.A." and Springsteen's name
as campaign tools in 1984, there can be little doubt that the loathsome Ronald Reagan
was a Sinatra guy
.
Yikes. Well, after thinking about Edwards and Reagan for a moment or two, the prospect of moving on to Facebook should at least feel less frightening.
John McCain's Facebook Favorites:
For some reason, McCain omits "Favorite Music" from his Facebook info. Perhaps he and/or some twitchy advisor fears ABBA would not "play well" among voters likely to visit Facebook ("The Kids"?). His music skews old; Facebook skews young. Leaving the info out is an interesting move. If Facebook skewed old, I'd say he was trying to show he's focused on the issues, but Facebook is made for "fun facts" (along with privacy violations and security breaches.)
Interests:
Sports, Hiking, Fishing, Boxing, Basketball, Football, Baseball, History
Favorite Movies:
Viva Zapata
,
Letters From Iwo Jima
,
Some Like It Hot
Favorite Books:
For Whom the Bell Tolls
Favorite TV Shows:
24
,
Seinfeld
Message He's Trying to Send:
John McCain is a tough, healthy, man's man who loves nature and all-American sports.
If a book is good enough, you don't need more than one.
John McCain is in touch with the popular television programs of today.
John McCain has a great sense of humor.
Message He's Really Sending:
John McCain has a problem with exercise addiction, hates music and books, and hasn't seen a movie he liked since 1952.
Looking Deeper:
In February, Obama said, "I've been
religious about getting my exercise.
You know, so I've been working out every morning." Last month, there was something of a scandal when he
appeared to choose a workout over a meeting with overseas troops
. So if you're voting in this election, and you want to vote for someone with a realistic shot of winning (no, it would
not
be funny to write in Paris Hilton), you may have no choice but to vote for someone with an unhealthy relationship with exercise.
Barack Obama's Facebook Favorites:
Obama lists "Miles Davis, John Coltrane, Bob Dylan, Stevie Wonder,
Johann Sebastian Bach (cello suites), and The Fugees" as his "Favorite Music" on his Facebook page.
Bach? That's out of left field. Not surprised Sinatra isn't listed, but where's Springsteen?
Interests:
Basketball, writing, loafing w/ kids
Favorite Movies:
Casablanca
,
Godfather I
&
II
,
Lawrence of Arabia
and
One Flew Over the Cuckoo's Nest
Favorite Books:
Song of Solomon
(Toni Morrison),
Moby Dick
, Shakespeare's Tragedies,
Parting the Waters
,
Gilead
(Robinson), "Self-Reliance" (Emerson),
The Bible
,
Lincoln's Collected Writings
Favorite TV Shows:
Sportscenter
Message He's Trying to Send:
Barack Obama is a well-read intellectual who won't waste a lot of time watching television programs in the White House. However, when he does watch TV, you can bet it's to catch up with all the sports. Don't get him wrong, he likes to loaf, but that's just to hang out with his kids, who are the real loafers! Just goes to show the good family values of this Bible-enjoying Christian husband and father!
Message He's Really Sending:
In the 70s, Barack Obama once sat on some gum while at the movies; that was the last time he went to the movies. Barack Obama either hasn't read Shakespeare in 25 years, or he's afraid to risk alienating Shakespeare fans who don't share his favorite Shakespearean tragedy.
Looking Deeper:
In March, when
The World Journal
asked about
his favorite books
, Obama replied, "Lately, I haven't had much time to read, but one of my favorite books has always been
Where the Wild Things Are
, which my daughters also love."
So it isn't all Shakespeare and
Moby Dick
, eh? And he might not have read so much as a pamphlet in eons.
MP3s:
1. Tom Russell - "I'm on Fire" (Bruce Springsteen cover)
2. Catherine Feeny - "I'm on Fire" (Bruce Springsteen cover)
3. Bob Dylan - "Masters of War"
4. Emilie Autumn - "Poem - At What Point Does A Shakespeare Say"
More Pop Culture Revelations: Braving the Click-o-thonic Gallery From Hell
Further
pop culture insights
into the potential Presidents come via
Entertainment Weekly
, who asked the men a number of preference questions likely to inspire a "Who fucking cares?" reaction from certain quarters. I edge toward agreement with those quarters here and there...
As is their wont, the
EW
website unnecessarily spreads the piece over many pages (nine, in this case). Try not to think of it as an annoying, repetitive-strain-injury-inducing waste of time. Try to think of it as a
"gallery"
! (Please note that adding sarcastic language to "gallery" may lessen your appreciation of the site's layout practices and possibly its content.)
The full interviews with
Obama
and
McCain
(in total, a mere four pages) provide the full questions and answers, and reveal an
EW
screw-up! in the gallery. Below, some info from their interviews. Much more, such as their first movie, and whether they or anyone in their family has voted for anyone on
American Idol
at
EW
.
EW Revelations:
Music:
McCain confirms his love for ABBA and names Orbison, Linda Ronstadt, and Usher as other favorites. (No Sinatra? I'm not convinced he's a Sinatra guy.)
EW
tells Obama, "Everyone knows you're a Jay-Z fan" (if you don't know this, you are evidently
no one
.) Asked "who else is on his i-Pod", the world's most well-known Jay-Z fan replies, "My staff teases me about how eclectic my tastes are. I've got Frank Sinatra, I've got Sheryl Crow, I've got John Coltrane, I've got Bob Dylan. There's Javanese flute music, African dance music, a lot of R&B."
Apparently this was Springsteen's turn to get left out. Perhaps a disproportionate amount of
Entertainment Weekly
readers are women and/or young enough to not feel a strong affiliation for Springsteen or Sinatra.
Favorite On-screen President:
Obama's fave: Jeff Bridges on
The Contender
: "That was a great movie president. He was charming and essentially an honorable person, but there was a rogue about him. The way he would order sandwiches - he was good at that." (Asked whether he's looking forward to "confounding the White House kitchen staff with obscure sandwich requests", Obama replies, "Absolutely. I want to test them. I want to see if I can get any sandwich I want." (Possibly the best answer here...or the most worrisome. You be the judge!)
McCain on his pick, Dennis Haysbert on
24
: "He's fabulous. He's a guy who makes tough decisions, he takes charge, he's ready to sacrifice his interest on behalf of the interest of the country. My least favorite is the one [on
24
] that got stabbed by his ex-wife." (Is McCain making a "hilarious" reference to his first wife He
left her
under circumstances he probably would rather not bring to mind.)
Favorite TV Shows:
Obama digs
M*A*S*H
and
The Dick Van Dyke Show
, which he says is his wife's favorite.
McCain says, "I really like
Curb Your Enthusiasm
. I kind of like
Dexter
, too, although it certainly has a macabre side to it... I like
The Wire
a lot, too. That's a great show." He says he and Wife Version 2.0 both like to watch
Seinfeld
reruns. and he claims, "I haven't watched it much", but his wife Cindy likes HBO polygamy program
Big Love
. (McCain's interview sure reads like a phone interview he was "allowed" to handle on his own.)
Favorite Superhero:
According to the
erroneous EW Gallery
, McCain picked Batman and Obama chose Spider-Man. They were right about McCain, but Obama
chose Spider-Man and Batman
.
His full answer: "I was always into the Spider-Man/Batman model. The guys who have too many powers, like Superman, that always made me think they weren't really earning their superhero status. It's a little too easy. Whereas Spider-Man and Batman, they have some inner turmoil. They get knocked around a little bit."
Entertainment Weekly
either decided to narrow it down for him, sacrificing accuracy for the sake of getting to pit Obama's Spider-Man against McCain's Batman, or, was sloppy enough to just glimpse at his answer and not give it a second thought.
McCain's answer: "Batman. He does justice sometimes against insurmountable odds. And he doesn't make his good works known to a lot of people, so a lot of people think he's just a rich playboy."
Both men gave thoughtful answers, yet it's of concern that neither mentioned key considerations like gadgets, costumes, friends, associates, and sidekicks, and the butler factor.
Perhaps the
candidates' culinary tastes
could serve as a tiebreaker for those who are truly stymied. McCain enjoys Tex-Mex, fancypants gourmet, and pepperoni pizza. Obama likes Mexican food, and vegetarian pizzas (cheese and Margherita), as well as fare from an eatery called "RJ Grunts", which brings to mind a grimier, comically rude version of the Chuck E. Cheese mascot.
Obama told Chinese newspaper
World Journal
,
"Chinese food is one of my favorite types of cuisine."
He did not mention vegetarian pizza or RJ Grunts, but he did elaborate, in wording that sounds suspiciously formal and translated-from-a-foreign-language, "These days, I generally prefer lighter Chinese dishes such as steamed fish with soy sauce, green onions and ginger, as well as garlic prawns. I enjoy dim sum and if the occasion is celebratory, I enjoy roast pig."
I hear the roast pig at RJ Grunts is
wicked
. That and the vegetarian pizza.
Those likely to be the Peace and Freedom Party and Green Party candidates don't have info about musical preferences on their Facebook pages and don't seem to have publically circulated iPod playlists. Their focus is on issues 'n' stuff... all well and good, but a well-timed press release with some sort of playlist, might help draw attention to their campaign and issues. (On the other hand, two candidates made this post long enough.)
So what can we conclude from all this info? McCain's White House would probably be one big swinging key party, with lots of pricey new exercise equipment, lots of plasma TVs so the first couple can more easily watch every minute of "their shows", and an expensive discotheque, all installed on the taxpayer's dime. Obama would likely install the same kind of fancy exercise equipment. He'd probably also ring up outrageous bills having exotic ingredients flown in from around the world in his quest to create increasingly "wackier" sandwiches. He might also order books he has no intention of reading, so he can leave them lying around to seem like he isn't mostly focusing on what his wife will disparingly call "the sandwich thing". Springsteen helps him "test" sandwiches, and there are discussions about opening a restaurant together after the White House years.
In either scenario, vital issues would go ignored or mishandled as the President focuses on their selfish, wanton personal life. Doomed! We'd be doomed! And talking of music?
Perhaps either administration would be unimaginably sweet,
but how can we know?
Hmm, perhaps it
is
best not to think, or care, much about the candidates' taste in music and such.
Yet more MP3s:
1. Elbow - "Leaders of the Free World"
2. Kasabian - "Empire"
3. Mazarin - "The New American Apathy"
4. Jason Falkner - "Author Unknown"
5. Hood - "Winter Politics"
6. The Olivia Tremor Control - "A New Day"
7. Ben Harper - "With My Own Two Hands"