The Smiths Musical -- Some Girls Are Not So Sure About This...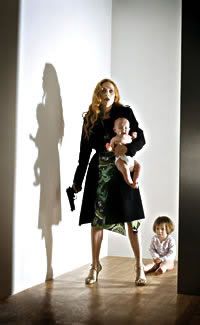 Just what I envision when I hear so many Smiths songs.
"Some Girls Are Bigger Than Others," a musical based on songs by The Smiths, is currently running in London. The New York Times
interviewed the director and musical director of the production and discuss the musical, which their writer says "seeks the spirit of the Smiths' songs by transforming them."
The songs are played "by a string quartet with electronics," and sung by four women and two men who "deliver anything from keening, primal unaccompanied wails to swing-era harmonies."
The play's music director, Perrin Manzer Allen first suggested to the director, Andrew Wale, that Smiths songs "offered possibilities for 'a singing actor.'" Although Wale, like Allen, was a Smiths fan, he says he replied that it was the worst idea he'd ever heard in his life.
The female actors play standard archetypes such as a child, a young woman, a mother, as well as less typical roles such as a cellist and a trapeze artist. The men play a father and son. And at one point, a rabbit (while singing "I am human and I want to be loved").
Not making this up
.
So how is it?
The Daily Telegraph
trounced it: "Excruciatingly awful... grindingly pretentious, murkily obscure, punishingly dull, and it inflicts grievous damage on the superb catalogue of the Smiths, for my money the last indisputably great band in the history of British pop."
The Times
gave it two stars out of five, acknowledging that "occasional moments work." However, "too often the songs are delivered in a diva-like fashion that drains them of genuine feeling... The white rabbit wasn't the only unhappy bunny by the end of 90 minutes." Another two stars out of five from
The Guardian
, who said: "If you shut your eyes and just listen, it is a fabulous 90 minutes...Unfortunately this is a theatre piece, not a concert, and the visual elements of the production are as vacuous and bland as a pop video."
"Some Girls" ends its London run on July 23. The production will be traveling to Ireland and Australia, and they hope to have a run in New York as well, if bad word-of-mouth from people who love The Smiths and/or rabbits and/or non-grindingly pretentious theatre doesn't prevent it. That run-on-sentence was brought to you by the letter E and the number 3.
There are
20 Smiths songs in the show
. The list:
Last Night I Dreamt Somebody Loved Me
Rubber Ring
Unloveable
How Soon Is Now?
Shakespeare's Sister
Oscillate Wildly
This Night Has Opened My Eyes
I Started Something I Couldn't Finish
I Won't Share You
Barbarism Begins At Home
Back To The Old House
The Hand That Rocks The Cradle
There Is A Light And It Never Goes Out
What She Said
Miserable Lie
I Know It's Over
Asleep
Please Please Please Let Me Get What I Want
Well I Wonder
Some Girls Are Bigger Than Others
MP3:
The Smiths - There Is A Light That Never Goes Out
MP3:
The Smiths - Unloveable
MP3:
The Smiths - Some Girls Are Bigger Than Others
Not on the list, but it's one of my favourites:
MP3:
The Smiths - Cemetry Gates