Mercury Prize Shortlist Announced - Oddsmakers Favour Kaiser Chiefs
The 2005 Mercury Music Prize
shortlist was announced today in London
.
The dozen nominations:
*
Bloc Party
-
Silent Alarm

mp3:
Bloc Party - Pioneers
*
Hard-Fi
-
Stars Of CCTV

mp3:
Hard-Fi - Tied Up Too Tight
*
Kaiser Chiefs
-
Employment

mp3:
Kaiser Chiefs - I Predict A Riot
*
M.I.A.
-
Arular

mp3:
M.I.A. - Galang
*
The Magic Numbers
-
The Magic Numbers

mp3:
The Magic Numbers - Love Me Like You
* Coldplay – 'X&Y'
(Not sure whether these kids have a website yet, and since they're bigger than Jesus times U2 plus infinity, you probably have, and cherish all of their songs already anyway)

*
The Go! Team
-
Thunder, Lightning Strike

mp3:
The Go! Team - Get It Together
*
Antony And The Johnsons
-
I Am A Bird Now

mp3:
Antony And the Johnsons - Fistful of Love
*
KT Tunstall
-
Eye To The Telescope

mp3:
KT Tunstall - Other Side of The World
Linkage:
Interview with KT
*
Maximo Park
-
A Certain Trigger

mp3:
Maximo Park - Going Missing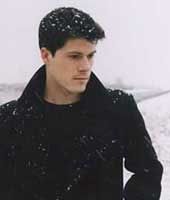 Seth Lakeman
*
Seth Lakeman
- 'Kitty Jay'

Linkage:
BBC streaming radio interview and performance, preceded by "Kitty Jay," the title track from Seth's Mercury-nominated album
The above performance/interview impressed me... I plan on buying Seth's album, and not just because of his accent, which I will admit a certain appreciation for, not unlike the way in which one might admire a painting... of a guy from Devon with a cool accent. The album is about the "legends and mysteries" of Devon and Dartmoor, and was inspired by hearing such stories from "the old boys in the pubs." Seth is a folk-rock artist who wrote most of the album's songs, and plays guitars, violins, mandolin and viola, as well as singing.
Linkage:
More about Seth, and his reaction to the nomination
. He said, "I'm skint. I spent my last 177 pounds on the entry fee for this award." (That's $317.14 in American currency, $374.82 in the land of hockey and Tim Horton's). Seth didn't think he stood a chance.
* Polar Bear – 'Held On The Tips Of Fingers'

Linkage:
Polar Bear's record label
has more info about their album, as well as mp3 samples of a couple of their tracks. If you'd rather download one here, here ya go:
mp3:
Polar Bear - Heavy Tracks on the Purple Floor
(sample)
Oddsmakers placed
the Kaiser as 4/1 favourites. The Kaisers then placed a 2 pound bet on themselves
($3.48 American dollars at the moment or $4.24 Canadian bucks). So they stand to win a whopping 10 pound ($17.40 American dollars or $21.22 in Canuckia), along with the 20,000 pound (at this moment, that's $34,803.57 American dollars or $42,439.12 Canadian dollars) that comes with winning the Prize itself. The Prize also carries a hefty amount of prestige and publicity, and a nomination is in itself an enormous publicity and critical coup. It could do enormous things for the career of a talented relative newcomer like Coldplay.
The Mercury Prize
"exists solely to champion UK music by promoting the 12 Albums of the Year by British or Irish artists. All genres of music are eligible and all albums are treated equally."
So never give up, British polka-rap-death-metal bands!