New Order to Release 2-Disc DVD Set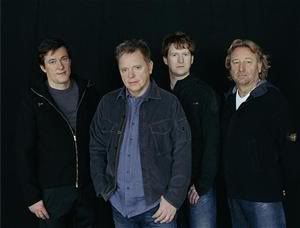 New Order will release a 2-Disc DVD set, "Item," on Sept. 13 in the US, and
Sept. 26 in the UK
. According to a spokesperson,
one DVD will include 24 music videos, including newly-shot clips for Ceremony and Temptation. The second DVD will contain the documentary, "New Order Story," previously unavailable on DVD, in a version twice its original 70-minute length
.
The group is toward the end of their summer tour in support of their latest album, Waiting for the Siren's Call. Peter Hook told Billboard.com that while making Siren's,
the group also recorded eight songs for their next album
. There is not yet an estimated release date or album title, but he did reveal a song title ("Stay With Me").
The "Item" Track Listing:
1. Blue Monday
2. Confusion
3. The Perfect Kiss
4. Shellshock
5. State of the Nation
6. Bizarre Love Triangle
7. True Faith
8. Touched by the Hand of God
9. Fine Time
10. Round & Round
11. Run
12. World in Motion
13. Regret
14. Ruined in a Day
15. World
16. Spooky
17. 1963
18. Crystal
19. 60 Miles an Hour
20. Here To Stay
21. Krafty
22. Jetstream
23. Ceremony (alternate video)
24. Temptation (alternative video)
mp3:
New Order - Touched By the Hand of God
mp3:
New Order - Regret