Sufjan Stevens/Bunky/Liz Janes at the El Rey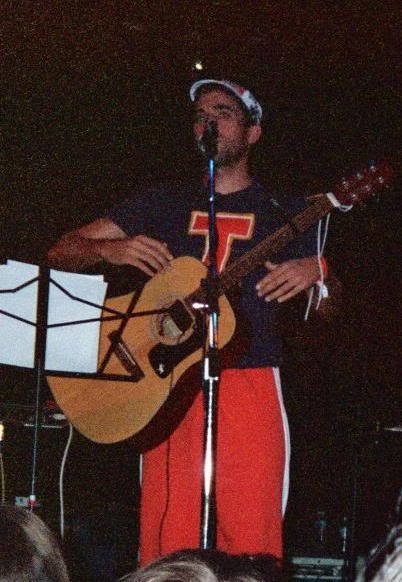 L.A. took a bit of dissing Saturday night. Bunky's Emily Joyce pointed out that L.A. doesn't have quite as many trees as her own San Diego. Sufjan Stevens called L.A. -- he told us "I love abbreviations" -- "the city of Lost Angels... the city of smog and automobiles. The city of beautiful people." At this point one guy yelled, "Thank you." We're also the city of wiseasses! Other contributions yelled by members of the crowd (while Bunky was encouraging us to visit San Diego) included: "L.A. sucks!" and "San Diego rules!"
Oh, yeah? Well... at least
our
mayor doesn't
take bribes from the owner of a strip club
. Actually, we have a new guy, so it could be a matter of time. Plus, during our last mayoral race each candidate pretty much said, "No way,
you're
more corrupt than I am!" Oh, we have so much in common... San Diego, I can't stay mad at you!
Especially when you send us cool bands like Bunky for a visit. I thought their set would be fun.
Yeah
, fun, and at times silly, but Bunky are not just a fun band. They rock, yo. Emily Joyce took center stage, singing sweetly and drumming fiercely. As the other main half of Bunky, Rafter Roberts plays guitar -- intensely -- and also handles vocal duties, though Emily's predominated on Saturday.
Bunky's extended lineup has occasionally changed; they draw from musicians in the San Diego (because they live in San Diego and they called on people from other professions, they would be less likely to know how to play instruments). Filling out the group now are some amazing musicians: Jason Soares on bass, Robert Ackley on trumpet, Gabriel Sundy on saxophone, and Tucker Dulin on trompone. All played with loads of energy, talent, and joy, filling out Bunky's sound perfectly. The crowd particularly ate up the stop-start Funny Like The Moon, with its perfect pace changes. Other highlights included Cute Not Beautiful, Heartbunk, and BaBa.
At one point Rafter swiped Emily's cymbals to use as a prop. She paused for a moment, looked at him, and announced that she was thrown off. Then she tried to hit him with a drumstick (goodnaturedly. I think). After the song, Rafter explained that he needed the cymbals to help him pretend to ride a motorcycle. Emily said it would have been better if he took them for no reason, just to mess with her.
Another slightly controversial Rafter moment was when he claimed that hippos are "the most deadly mammals on the planet, besides humans." Someone yelled "Polar bears!" but I don't think Rafter heard him, which possibly is for the best; it might have averted an ugly debate.
Bunky sings about monkeys and hippos, but their lyrics are deeper than that. Think love and angst. They also
rock
. They put on a great show.
mp3:
Bunky - BaBa
Sufjan Stevens introduced Liz Janes. She's on his label, and he has produced and arranged her work. If someone doesn't automatically respect every performer, maybe this would give her a bit of help in that department? Maybe not, which is especially unfortunate since Liz had hurdles from the get-go.
By the time she went on, it was late (Bunky went on late -- which isn't unusual). The theatre was very hot -- drink sales were likely high, which could have been another problem. There seemed to be a lot of people at the bar/restaurant area. Heat definitely wears people out, and makes them restless. Momentum-wise, perhaps the slower pace of Liz's set, right after Bunky's energetic set, did not play well. Liz played guitar for most of the set, and was accompanied by one person (a woman from Sufjan's band), who sang, and accompanied her (on keyboard and guitar). It was sort of a perfect storm for a rude crowd, which is what Liz got. That's not to say that I loved her music. During the third song, I thought Liz's guitar made sounds no guitar should be forced to make. It seemed to be suffering. Yet some people seemed enthralled with the performance. One guy said, "I love her voice." I couldn't tell whether there was a "but" left unsaid.
It was during that third song that the crowd's chatter grew quite loud, and it stayed loud throughout the next song. How hard can it be to have some patience and respect for a little while for a good cause? Other people wanted to watch the set. Liz handled the situation well. She seemed to take in the crowd's behaviour, process it for about two songs before responding. Then she asked how we were doing. Someone complained about the heat, and she laughed, expressed sympathy, and gave him a bottle of water. Some of the next songs held the audience's attention better than others, but the crowd did quiet down after that. She correctly predicted that we would like songs we could clap along to, but only gave us a couple of them. The set definitely ended on a high note with a very lively performance of one such song, "Swing Low, Sweet Chariot." Toward the end of her set, Liz thanked the crowd for their "kindness and generosity" which seemed excessively gracious but perhaps she was grateful to have regained some momentum and goodwill.
mp3:
Liz Janes - Proposition
Sufjan Stevens and his band took the stage dressed as cheerleaders, the women in traditional uniforms and carrying pom-poms, the men clad in bright orange sweatpants and "I" (for Illinois) shirts. The outfits weren't just for show; they performed actual choreographed cheers, because, as Sufjan explained, "we like to lift the spirits a little bit." The cheers introduced some of the songs, with a song about Metropolis preceding "The Man From Metropolis Steals Our Hearts." The crowd gave Sufjan a J, A, C, K, S, O, and N for the cheer before "Jacksonville." The cheers were a real crowd-pleaser, often provoking laughter.
He opened the set with "Concerning the UFO Sighting Near Highland, IL." The last song of the evening was his one encore, an achingly beautiful rendition of "Casimir Pulaski Day." In between: cheers, costume changes (okay,
one
costume change -- with the band donning Come on Feel the Illinoise t-shirts and ordinary pants), some banter, and most importantly, heartfelt performances of his lovely, well-crafted songs. The hodgepodge of elements and moods on the stage struck me as a perfectly imperfect match for the mishmash of Sufjan Stevens' songs.
Perfectly
im
perfect because I later decided that it made sense that it didn't feel
quite
right. Sufjan seemed introspective, fair enough, but also sometimes a bit awkward and maybe even sad. "So intense," someone called him. I agreed... and he was wonderful, but the awkwardness made me hope he enjoys performing. He could just be a subdued guy. The sad, awkward whimsy of his stage show fits his albums either way.
Late in the set, Sufjan closed his eyes as he sang, "I cried myself to sleep last night" and the girl next to me swayed, her hand to her heart, gently tapping it. It's an odd thing for one singer to both make us laugh and (sorry) touch our hearts. Perhaps the show felt a bit odd, awkward, and beautiful in the same kind of way that life is all of those things. Maybe some people appreciate Sufjan Stevens for capturing so many aspects of life in ways few people would ever think to.
Sufjan Stevens Setlist, 7/16:
(Illinois Cheer)
1. Concerning the UFO Sighting Near Highland, IL.
2. Say Yes! To Michigan! (I think -- only one I'm not sure about!)
3. They Are Night Zombies!! They Are Neighbors!! They Have Come Back From the Dead!! Ahhhhh!
4. The Seer's Tower
5. John Wayne Gacy Jr.
6. A Good Man is Hard to Find
(Cheer for Jacksonville, introduced thusly: "This is a cheer for Jacksonville." Sufjan had the crowd spell out "Jackson.")
7.
mp3:
Jacksonville
8. The Predatory Wasp of the Palisades Is Out to Get Us!
(Cheer for Metropolis)
9.
mp3:
The Man From Metropolis Steals Our Hearts
10. Come on! Feel the Illinoise! Part I: The World's Columbian Exposition/Part II: Carl Sandburg Visits Me in a Dream
11. Chicago
12. Casimir Pulaski Day (encore)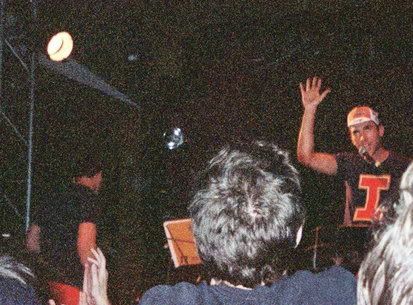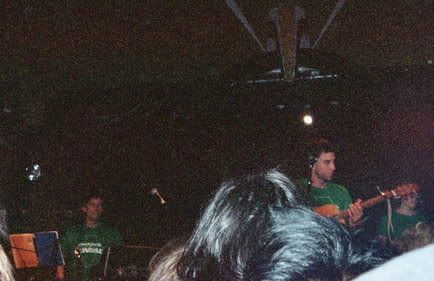 Awful pic... great encore