There's magic here and magic's weird...
Seven songs. I might do a theme post next time around. These songs might share a common theme... longing? Something just out of reach? Only, they aren't
all
bleak and glum. There are some dark topics and lyrics but, for instance, the Wreckless Eric track is hardly somber, the Blake Babies are defiant and determined, and Kristin Hersh insists "We're gonna live forever." Plus, though the Autolux song has no such hopeful note, the singer
does
sing "sha la la" every so often. That is somehow magically cheerful, no matter what words precede it.
mp3:
The Get Up Kids - The One You Want
The Get Up Kids played their last show earlier this month. That sucks. You can download mp3s and videos at their
official website
. The mp3s on offer: Wouldn't Believe It, Martyr Me, and Ten Minutes (live).
mp3:
Magnet - Where Happiness Lives
One wordsmith at NME reacted to this song thusly:
"Your drummer must resemble a toy steam train three miles away, your pedal steel must twa-yang as though plucked by the pixies and your lyrics must concern being dumped by a blue-eyed girl in gingham. So cuddly it almost makes you think of 1999 without spitting."
mp3:
Autolux - Here Comes Everybody
Here comes everybody you never cared for/sha la la
trill looked for Autolux's website
Then she found it.
She looked at it.
She liked the text on the front page.
But it should be updated
To promote the
July 18 full UK release of their debut CD, Full Time Hobby
.
mp3:
Joseph Arthur - Can't Exist
At
Joseph Arthur's website
you can find oodles of live mp3s (from a concert for John Kerry -- but one in New York, and Kerry did take New York. Good job, Joseph!). A couple videos too, and streaming audio samples of every song from his album.
mp3:
Wreckless Eric - Whole Wide World
From 1978,
produced by Nick Lowe, who also played most of the instruments on the track. Ian Dury, however, played the drums on it
. You can read more about Wreckless Eric at your local library (maybe) or at the
his All Music bio page
or
his website
.
mp3:
Blake Babies - Cesspool
We'll make some righteous amends/ Maybe we'll start a trend
Unofficial Blake Babies websites abound, or at least I hope there are enough to justify my use of "abound" because damn, I like that word. One such website is
Blakebabies.com
. To check up on former Blake Baby Juliana Hatfield, the best place to head is not her home, although "check up on" did sound vaguely stalkerish. No, of course one should merely head to
her website
.
Juliana has a new album, due out Aug. 9 in North America. Made in China will be released on her own label and folks have the option of buying it directly from Juliana through
her website
. She will also be touring this summer, and some of the dates are listed at her website. The cover of her album is very demure.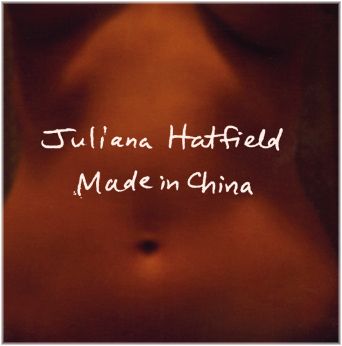 mp3:
Kristin Hersh - Shake
There's magic here and magic's weird...
Kristin Hersh, her former band, Throwing Muses, and her current band 50 Foot Wave share
an official online home
. The downloads page will attempt to hoist 50 Foot Wave upon you. I haven't listened to enough of their songs that I should really pass judgment... I heard four or five of them several months ago. I think I liked one okay. I recommend instead heading to
Beestung
to satisfy your Kristin Hersh cravings. Throwing Muses, Kristin Hersh, Belly, and Tanya Donnelly are all to be found, in convenient audio form and also in relatively-convenient video form.