We're Not Afraid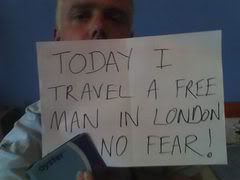 mp3:
The Bravery - Fearless
mp3:
Ben Lee - Begin
mp3:
Johnny Cash - I Won't Back Down
(Tom Petty cover)
We'reNotAfraid.com
is hardly a subtle name, so it's fitting that their mission statement be equally bold: show the world we're
not afraid
of what happened in London, and that the world is a better place
without fear
.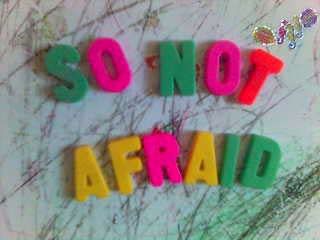 mobile mike, We'reNotAfraid.com
They invite photo submissions, and maintain a large, ever-increasing gallery on their site. The photos send the message "We're not afraid." Some people convey it defiantly -- for instance, with two fingers --
which does not mean "peace" in the UK
. Some show they're not afraid with a photo showing a moment of joy or affection. Some scrawl their message and hold it to a webcam, others cartoon thought balloons above a picture of their cat or child. There's so much creativity and energy being put into this project... into showing the terrorists that there are plenty of people whose spirits have not been crushed. If anything, a lot of people seem determined to have these attacks only strengthen their fortitude, realizing that is a sort of victory.
Through their
We're Not Afraid Cafe Press store
, We'reNotAfraid.com has so far raised nearly $10,000 for the
Red Cross London Bomb Relief Fund
. They do specify that: "Some of the profits earned from the sale of this merchandise will be allocated to server and admin costs, the rest (approx 35% of list price) will be donated to the Red Cross London Bomb Relief Fund. We will transparently publish costs and the amount raised from sales via this shop, so you know we are not profiting from others loss."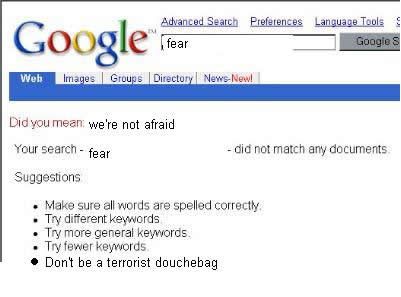 Jason S., We'reNotAfraid.com