Paramore - Yet Another Teen Band?!?!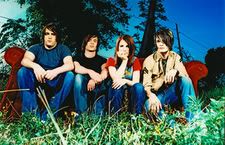 Yes, it's yet another teen alt-rock band. Yet another one with a female singer even. Fortunately,
Paramore
is another really good one. Paramore is led by 16 year-old singer Hayley Williams, whose powerful voice was just
praised in a CMJ Music Marathon write-up at Spin.com
. Spin said Paramore, a band from Franklin, Tennessee, "blew the crowd away" and Williams "had the distinction of being of being one of the only vocalists whose live belting matches the perfection of her voice on the record." The rave from Spin is what prompted me to seek out Paramore's album,
All We Have Is Falling
. It's pretty strong. The tracks are very catchy, and the vocals and music are excellent. Several are pretty radio-friendly, incidentally, with strong modern-rock-to-top-40 crossover potential. Standout tracks, in addition to the ones I'm posting, are "Emergency", "Whoa", "Franklin", and "Let It Go". That's more than half the album, so there ya go. In addition to Williams, Paramore is comprised of brothers Josh and Zac Farro (guitar and drums) and Williams' next-door neighbour Jason Bynum (rhythm guitar). All sound excellent on the album, and based on the videos below and the Spin review, Paramore can deliver live as well. Their touring scheudle for September and October is posted at their
website
. Indiana, Ohio, Michigan, New York, Massachusetts, New Jersey, and Rhode Island are among the states Paramore will be visiting -- well, likely not the entire states. They'll be playing in those states, though.
Any of us who spent a moderate amount of time at 16 engaging in, say, water fights... although there was not a lot of glamour or money in it, know that we were
not
wasting our time. It was good for our hand-eye coordination, and bonding with our peers. Also, as it was not allowed at our snooty school, the rebelliousness allowed us to "stick it to the man" without actually risking life or limb. It was worthwhile. I'm sure of it.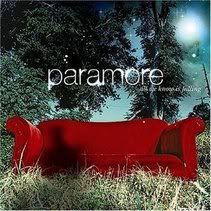 mp3:
Paramore - All We Know
(from
All We Know Is Falling
)
mp3:
Paramore - Pressure
(from
All We Know Is Falling
)
Linkage:
Meet Paramore video
All We Know video
(hey, singer Hayley Williams is wearing a "42" shirt!)
Here We Go Again (acoustic) video
Hallelujah (acoustic) video