Synth Music a go-go at the Nova Express Cafe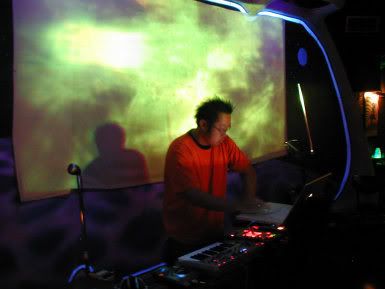 Who doesn't love synth music in a comfy, space-influenced environment? Aw, you do too, stop being a curmudgeon. I do, anyway, and it's my blog. Ha! So I get write headlines that include "a go-go" (yay!) and write about this kind of thing. No one's making you read this, pal. Aw, now I'm all defensive. Sorry.
Sniff
. Let's never fight again until the next time. (We should be realistic, after all)
I had never been to the
Nova Express Cafe
but it looked intriguing, and it
sounded like an especially good night to go
.
Reed Rothchild
's music was described as "very cinematic in nature, conveying emotion and telling stories, while traversing a range of styles including electro, ambient, and breaks."
The description for
Henry Strange
mentioned all kinds of groovy-sounding gizmos he's worked with... DOS based sequencer/samplers, modern MIDI software and softsynths, E-MU and Moog modular synths... Aw, we've all done that stuff!
I arrived promptly, well before I had intended to, as far as you know -- and met up with my friend. While you may question whether I was in fact "on time", before you start interrogating me, let me ask you this: what is "truth"? Hmm? Yeah!
Fortunately, parking had been a snap and the club was easy to find (it's right by
Largo
, on Fairfax). Nova has a space theme, as you can tell from their
website
. It doesn't look intimidating, though (so I hope that isn't their goal. I don't think it is, though, because the atmosphere is casual and friendly). The place is comfy, too. For instance, the chairs are not twisty, weird, clubby "space" chairs. I'd already eaten, which was a mistake because the food looked great and they even have vegan burgers and pizza. I wasn't given any funny looks over not ordering more, though and everyone seemed to get equally great service (everyone might not get a recommendation for the tiramisu, but everyone probably doesn't ask about dessert)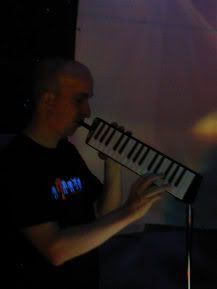 This instrument is called a
melodica
, which I was later reminded was used on
Sarah Harmer
's
All of Our Names
, an excellent album.
As for the music ("oh yeah, that!"),
Reed Rothchild
was the first performer I saw (there was an impromptu performance by Raphael earlier). Reed Rothchild is secretly not his "legal" name except it's not a secret because that's in his bio. I just like saying "secretly". Both Rothchild and
Henry Strange
used projection screens to play a variety of images during their performances. Rothchild included a lot of movie images, appropriately enough. His music had been described as "cinematic" which is apt. It has a thoughtful quality to it, sprinkled with a dreaminess (it didn't strike me as crossing over into trancetown, at least not as more than a tourist). The playing of instruments in addition to the synth and all of the pre-recorded sounds is something I really like. It's possibly quite enough work, without that, but it makes the performance even more unique and interesting. And I love the melodica in particular. It's awesome. Nifty performance... and cool robot shirt.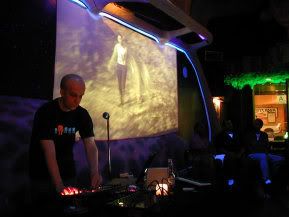 There are
lots
of mp3s at Rothchild's
website
(click on "downloads"). Why, there are songs from his discs (
Five Oceans
and
And So On and So Forth
), the track "Repititions and Variations", which appeared on the compilation
Nophi Compilation 2
, and clips from new tracks. If you're a bit overwhelmed by all the tracks, and want a place to start... I haven't yet listened to every song, but I'm especially partial to "In a Sleep, In a Dream" and "Up Again" (from
Five Oceans
. Igloo Magazine praised it as "a soundtrack to accompany a long journey" and form "lasting memories") and "Arrival in Sight" (from
And So On and So Forth
). Both are available from
Nophi Recordings
.
Reed Rothchild will be performing two 30-minute evening sets October 8 at
Create/Fixate
, a multimedia art event in downtown Los Angeles at the Spring Arts Tower at 453 S. Spring St (5th & Spring) on the Mezzanine level. Tickets are $10 each or free before 7:00 PM. Rothchild says to
"Expect the usual laptop, melodica, and maybe even some geetar!"
Create/Fixate will include DJs aplenty, bands, both "visual art" and "video art" as well as live painting. Rothchild has also scored some films and you might have heard his music on some TV shows as well.
Henry Strange
's music has been featured in the Wes Craven movies "Cursed" and "Red Eye" and he got a
rave from Keyboard Magazine
under his old name, Trace Element in July. The images accompanying his songs included some symbols and in general were often a bit more enigmatic than Rothchild's images. The "noise"/fuzz content was sometimes higher, in some songs... but it was pretty transient... when a song needed to go somewhere, it was a part of that. The songs were sometimes crunchy, sometimes a bit screechy, and sometims swooned, but not in an especially ladylike way. Overall the set was fairly intense, and made for a good companion to Rothchild's set -- one a bit more mellow with less of that "noise" factor, both enjoyable. Streaming audio of loads of songs is available at
Strange
's website. I'll single out "Chilly", "It's Time, "Low Strings", and especially "Kast" as ones I quite like (accidentally playing "Kast" and "Low Strings" at the same time was really cool too. At first I was frustrated -- "which one do I like?!" Well, both. Together, and separately. Awesome).
Linkage:
Nova Express Cafe's Journal
- for announcements about the Weds. night performances.
The next ones are:
Wednesday, September 21
The Fuxedos
10 PM
Wednesday, September 28 Andre LaFosse
Wednesday, October 5 Hop-Frog's Drum Jester Devotional
Sunday, November 13 Cold Meat Industry Showcase 2005
Nova Express Cafe (Alcohol/Dinner/Coffee)
426 N. Fairfax Avenue
West Hollywood, CA
These mp3s are not entirely unrelated to the Nova -- met a chap there who recommended Squarepusher (though it turns out I already had stuff by them. If an artist covers "Love Will Tear Us Apart", it's usually a good way to get my attention, although apparently not a good way to
hold
my attention. I have the Lost in Translation soundtrack, so I heard them there as well)
mp3:
Squarepusher - Love Will Tear Us Apart
(from
Do You Know Squarepusher
)
mp3:
Squarepusher - Tommib
(from
Go Plastic
and the
Lost in Translation
soundtrack)
mp3:
Squarepusher - My Red Hot Car
(from
Go Plastic
)
mp3:
Squarepusher - Venus No. 17 (Acid Mix)
(from the
Venus No. 17
CD single)
mp3:
Squarepusher - Dedication Loop
(from
Selection Sixteen
)
mp3:
Squarepusher - Port Rhombus
(from
Big Loada
)