One Way Magazine Aug/Sept. CD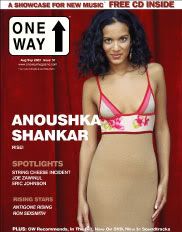 One Way Magazine
is a freebie music-promoting mag that includes a CD. According to the cover of my issue, it's "free in L.A. and San Francisco." According to the One Way website, it's
distributed to targeted locations in Los Angeles County and Orange County and by subscription "all over the world."
A subscription is $25 for 6 issues/year in the U.S, $55 for an international subscription. Their website tells us their "mission" is to
"showcase new music by both established and developing artists to adult eclectic listeners and to promote a music lifestyle."
But not to
all
adult listeners. 24 or under? Not in or around L.A. or the O.C.? Eh, you're not really their target audience and I'm not so sure you should download any of these songs. They may not be for you, pal. No offense. May I suggest
Kidz Bop
?
Hey, no hard feelings. I was a whippersnapper once myself. Here's a song.
mp3:
Kidz Bop Kids - Since U Been Gone
(from
Kidz Bop, Vol. 8
)
Now why not stop loitering here and move along to the next post. I didn't post any of the dirty Tenacious D tracks, so it's relatively nice and kid-friendly. Enjoy!
Streaming audio for the current and previous issues of One Way is available online and those 25+ are invited to enjoy it at the
One Way website
.
One Way Aug/Sep (Issue 16) Track Listing (since it's a freebie promotional CD, I figure it's cool to post the whole thing):
1.
mp3:
Anoushka Shankar - Beloved
(from
Rise
)
2.
mp3:
Raul Midon - Keep On Hoping
(from
State of Mind
. Initially had this mistitled and mistagged -- sorry about that! Reuploaded it with corrected title/tag)
3.
mp3:
Amos Lee - Arms of a Woman
(from
Amos Lee
. I think this is really good)
4.
mp3:
Les Paul, Keith Richards, Buddy Guy - Good Morning Little Schoolgirl
(from
Les Paul and Friends
)
5.
mp3:
Dandy Warhols - Smoke It
(from
Odditorium or Warlords of Mars
Hey, it's the
"I think I could happily never hear this song again"
song! Never let it be said that I am dogmatic, or unwilling to revisit an issue or a song. But, uh, yeah... still not terribly fond of it. There was some toe-tappage, but this is unlikely to become the song in my heart at any given moment)
6.
mp3:
Idlewild - Love Steals Us From Loneliness
(from
Warnings/Promises
. I've posted this song before. I like it, I like the pronounciation of "stupid" in particular, like Idlewild in general. Oh, and I like that album title)
7.
mp3:
Low Millions - Here She Comes
(from
Ex-Girlfriends
)
8.
mp3:
Waking Ashland - I Am For You
(from
Composure
)
9.
mp3:
Anberlin - A Day Late
(from
Never Take Friendship Personal
)
10.
mp3:
Dizmas - Let This One Stay
(from
On a Search In America
)
11.
mp3:
Number One Gun - We Are
(from
Promises For the Imperfect
)
12.
mp3:
Emery - Studying Politics
(from
The Question
. Quite like this)
13.
mp3:
The Evan Anthem - Zeroes and Threes
(from
Sens
)
14.
mp3:
Mae - Suspension
(from
The Everglow
. Pretty good, catchy)
15.
mp3:
Robbie Seay Band - Better Days
(from
Better Days
. The opening lyrics turned me off to this pretty quickly; the rest mostly was mostly an improvement with the exception of an order to "listen to me now", which made me want to not listen to him. Order
me
around, will ya? Hmph. Come up with a song I really adore and I might be slightly more receptive to bossy lyrics)
16.
mp3:
Marjorie Fair - Empty Room
(from
Self Help Serenade
. Another song I've posted before; I like this a lot)
17.
mp3:
Tristan Prettyman - Love Love Love
(from
Twentythree
. Tristan Prettyman is the name of a female person, and not a band. I'd wager she has never met another Tristan Prettyman).
18.
mp3:
Bethany Dillon - New
(from
Imagination
)
19.
mp3:
Bernadette Peters - Children Will Listen
(from
Sondheim, Etc.
. No, they won't. I asked them to move on to the next post. They're obedient these days, aren't they? If you bribe them? This is not something I would post if not for posting the entire contents of the CD. It's pretty out there)