More Songs to Learn & Sing from Echo & the Bunnymen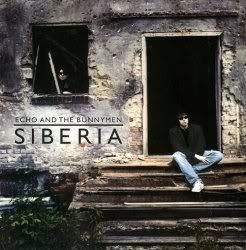 With the confident
Siberia
,
Echo & the Bunnymen
has created an album that neither feels like a nostalgia trip nor an attempt to imitate any of the alt-rockers the kids like nowadays. The music alternates between brash/rocking and flat-out shimmering and lovely, but is pretty consistently infectious and excellent. No one needs to buy
Siberia
(out Sept. 20 in North America, in the U.K. on Sept. 19) as a "thanks for the other albums"; it stands on its own (literally, if you purchase the CD and prop it up carefully).
The angst-rock title track -- a combo Echo has always excelled at -- features jangly, slightly exotic music. A bit of it reminded me of The Cure's "Killing an Arab", but there isn't a great similarity. Ian McCulloch warns "Cold as ice/on my knees/every night/Snow White" and asks "And where were you you? leaving this listener to wonder whether the person in question might have been hiding from the dude comparing himself to Snow White? If however he meant
she
was like Snow White, nevermind, and yeah, where
were
you?
Answer the question!
By the end McCulloch invites -- or is it taunts? -- "come and get me now." (I'm goin' "taunts").
More angst in "Parthenon Drive", which addresses the aging issue. These guys released their first album in 1980. That same year
John Lennon was killed, Jessica Simpson and Christina Aguilera were born,
and
the Rubik's Cube "made its international debut at the toy fairs of London, New York, Nuremberg, and Paris"
. The older McCulloch knows that "dreams will fall" but he doesn't sound too unhappy about it and Will Sergeant's guitar rocks too much for these guys to be old.
"Everything Kills You" shimmers beautifully. This one mostly owes its charms to Sergeant. The lyrics and vocals are good, but the guitarwork is particularly distinctive and lovely.
"Of A Life" gives a wink to longtime Echo fans, acknowledging the need for "a song to learn and sing" (as in the title of a past best of album). First single "Stormy Weather", a pretty straightforward catchy love song, suffers from unfortunate timing as the title may seem to be in bad taste at the moment. I don't know whether that really has anything to do with the single
debuting at only #55 in the U.K. The band hope the album, and the next single, out at the end of October in the U.K., will do better
. I don't know what sort of promotion the album and single received in the U.K. I have not been seeing much promotion for
Siberia
, which is disappointing but hopefully it will pick up soon. I think it can do well, but not if people don't even know it exists.
People can
buy a download of "Stormy Weather" from anywhere in the world and influence its UK chart position
(
as explained the Echo & the Bunnymen website
). "Stormy Weather (Radio Edit)", "What If We Are (Vocal & String Version)", and "Stormy Weather (Instrumental Version)" are available for 79p each (U.S. $1.29 or $1.52 Canuckian bucks) or there's a flat fee to subscribe to the service. Tracks from Echo's album
Flowers
are also available at the same price, and there are tracks from other bands... White Rose Movement, Minibar, Cocteau Twins, The Rakes, and many more.
There's a
Siberia miniwebsite
at the Echo & the Bunnymen website -- the video for "Siberia" has been posted there. I haven't checked it out yet so I can't vouch for it.
The album, I'll vouch for... it's quite good. I've only given it one listen, and I usually like to listen to an album more than that before reviewing it. Maybe their confidence is contagious (or maybe I'm eager, or impatient; it's really hard to say)
mp3:
Echo & the Bunnymen - Of a Life
(from
Siberia
)
Echo & the Bunnymen tracks from other albums:
mp3:
Echo & the Bunnymen - Pictures On My Wall
(from
Crocodiles
, etc.)
mp3:
Echo & the Bunnymen - Bring On The Dancing Horses
(from
Songs to Learn and Sing
, the
Ballyhoo
box set, the
Crystal Days: 1979-1999
box set, etc.)
mp3:
Echo & the Bunnymen - Nothing Lasts Forever
(from
Evergreen
)