Wilco to Release Live Double Album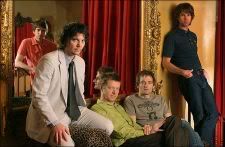 Wilco
has announced the upcoming release of their first live album, a two-disc set called
Kicking Television - Live in Chicago, which will be released Nov. 1 in North America
and
as a lovely Halloween treat on Oct. 31 in the U.K.
. The album includes 23 tracks from four performances at the Vic Theatre in May, and its title reminds me of Beavis and Butthead ("Yeah, kick it!
Kick it
!") That's not what the song's about, but there you have it; I'm in a literal mood.
Some older and comparatively lesser-known songs are included on
Kicking Television
, along with a cover of Charles Mingus' "Comment". This is cool, though some favourites are of course bound to be left out. Off the top of my head I noticed the absence of "Box Full of Letters", "I Got You (At the End of the Century)", "I'm Always in Love", "Outtasite (Outta Mind)" (really would not have expected that one), "Can't Stand It", "(Was I) In Your Dreams", and "California Stars". At first I thought there weren't any of the "Billy Bragg songs" but, wait -- "Airline To Heaven" was lurking in the second CD's track listing (yes, the song was lurking and therefore it's to blame for my not seeing it earlier. Neat rationalization, eh?). The songs on my list share some qualities, and it's no surprise and perfectly fair and appropriate that Wilco's first live release would be consistent with their current direction as a band. It seems like Wilco avoided many of their songs that perhaps turn the "catchy, accessible, pop" dial a bit too uncomfortably close to 11. Or maybe those songs
were
played, and just happened to not make it to the final cut. They have a lot of great songs. Wilco/Tweedy do still play at least some of those songs in concert, or at least did in the not-too-distant past. The "catchy" quotient is still nicely satisfied by songs like "Heavy Metal Drummer".
If you're so inclined, you can listen to "Airline to Heaven" from
Kicking Television
at
Wilco's website
, along with a Jeff Tweedy appearance on the Bob Edwards radio show, which you can also download as an mp3.
Wilco is playing at Farm Aid on Sept. 18, and Wilco and Jeff Tweedy (performing solo gigs) both have a whole lot of
concerts
lined up through the Fall. Most are in the U.S. but Tweedy has a London gig in November, and Wilco will be playing in Rio de Janeiro in October.
Wilco frontman Jeff Tweedy is responsible for one of my favourite quotes about file-sharing. He's one of the best spokespeople for file-sharing -- he understands the issues well (not saying that just because I agree with his views), and discusses them so intelligently and eloquently. (Another reason, not that we should need one, for his fans to support him and his band's career)
From
Wired
's interview with Tweedy:
WN:
How do you feel about efforts to control how music flows through the online world with digital rights management technologies?
Tweedy:
A piece of art is not a loaf of bread. When someone steals a loaf of bread from the store, that's it. The loaf of bread is gone. When someone downloads a piece of music, it's just data until the listener puts that music back together with their own ears, their mind, their subjective experience. How they perceive your work changes your work. Treating your audience like thieves is absurd. Anyone who chooses to listen to our music becomes a collaborator.
People who look at music as commerce don't understand that. They are talking about pieces of plastic they want to sell, packages of intellectual property.
I'm not interested in selling pieces of plastic.
Kicking Television - Live in Chicago
Track Listing:
(all mp3s are non-live album versions)
CD1:
Misunderstood
Company In My Back
The Late Greats
Hell Is Chrome
mp3:
Handshake Drugs
(from
A Ghost Is Born
)
I Am Trying To Break Your Heart
Shot in the Arm
At Least That's What You Said
Wishful Thinking
mp3:
Jesus etc.
(from
Yankee Hotel Foxtrot
)
I'm The Man Who Loves You
Kicking Television
CD2:
Via Chicago
mp3:
Hummingbird
(from
A Ghost Is Born
)
Muzzle Of Bees
One By One
Airline To Heaven
mp3:
Radio Cure
(from
Yankee Hotel Foxtrot
)
Ashes Of American Flags
mp3:
Heavy Metal Drummer
(from
Yankee Hotel Foxtrot
)
Poor Places
Spiders (Kidsmoke)
Comment (Charles Wright cover)
And another Wilco song -- it's not on
Kicking Television
. I just really like it:
mp3:
Box Full of Letters
(from
A.M.
)