The Beautiful South Call It A Day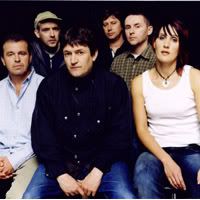 Alt-pop group
The Beautiful South
have released a brief and characteristically humorous statement
announcing their break-up
:
"The Beautiful South have split up due to musical similarities. The band would like to thank everyone for their 19 wonderful years in music."
A lot of bands tend to break up in the spring, so if the pattern holds, we should expect several more splits. This may be the inevitable flipside to all these reunited bands. A sort of musical version of the even Steven principle... there's only room for so many bands at once.
The Beautiful South - Have Fun
(available on
Blue Is The Colour
)
The Beautiful South - Ciao!
(Lush/Jarvis Cocker cover, available on the covers album
Golddiggas, Headnodders & Pholk Songs
, which also includes the group's take on "You're The One That I Want" from the
Grease
soundtrack.)