Uncut March Playlist CD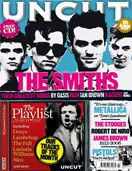 A cover story on the greatest Smiths songs, but nary a Smiths tune on
Uncut
's March Playlist CD, let alone a tribute disc like Uncut compiled for, say, Bob Dylan. Perhaps Dan Bern's faux-personation of Dylan on the March Playlist disc brought Dylan, and his tribute CD to mind. Uncut also did a covers CD for Bowie, but I don't recall one for The Smiths. Pity, that. Who doesn't like covers? And a lot of people like The Smiths...
The Playlist disc is a mixed bag.
Dexys Midnight Runners' 1981 hit "Show Me" is a burst of sax-fueled joy. The Noisettes wrap heavy guitar, bass, and breathing around strongly encouraging lyrics on "Don't Give Up" (there's only room for moderate drums; the song's just under two-and-a-half-minutes long.)
On the other end of the length spectrum, I love the pretty noise of Explosions in the Sky's instrumental rock epic "Catastrophe And The Cure". A track from Lambchop is fun, and also quite long. Both are good, but I hate the trend toward long songs and films. It encourages filler. Edit, edit, edit. Not necessarily down to two-and-a-half minutes, but how 'bout a happy medium?
Jesse Malin has a good voice, but he often power-sings a shade too intensely on "Little Star". He might be trying to keep up with the guitars, the best thing about the song (thanks partly to Ryan Adams). Still, since he's supposed to be singing to someone he loves, why run the risk of seeming angry rather than smitten and determined?
Sometimes Malin slows to virtually speak lyrics, as if to make sure we don't miss the subtle beauty of this sort of gem: "Misunderstood, like Robin Hood/And Peter Pan/Redemption". You know who else relates to Peter Pan? Michael Jackson. He's written lyrics about being unfairly persecuted too. That's a joke, but I find it hard to take that lyric seriously.
There's an emotional disconnect for me with this song; it feels like Malin is trying to make a successful song but I get little sense of anything real from it. He's obviously talented, though, and I'm interested in hearing more of his music.
Uncut - The Playlist - March 2007

Track Listing:
1. The Besnard Lakes - Disaster
2.
The Noisettes - Don't Give Up
(on
What's the Time Mr Wolf
, the EP
Three Moods of the Noisettes
, and don't-look-now-kids, it's a single, too! Okay, you can look now.)
3. Richmond Fontaine - The Kid From Belmont Street
4. Rickie Lee Jones - Falling Up
5. Dan Bern - Suicide Room
6.
Jesse Malin - Little Star
(on
Glitter in the Gutter
, out February 26th in the UK and March 20th in the States)
7. Nico - Frozen Warnings
8. The Fall - Reformation Uncut
9. Lucinda Williams - What If
10. Cold War Kids - Expensive Tastes
11. Marissa Nadler - Diamond Heart
12. Delroy Wilson - This Life Makes Me Wonder
13. Lambchop - You Masculine You
14.
Dexys Midnight Runners - Show Me
(available on
Projected Passion Revue
)
15. Explosions in the Sky - Catastrophe And The Cure