Ron Sexsmith on From the Living Room to The Loft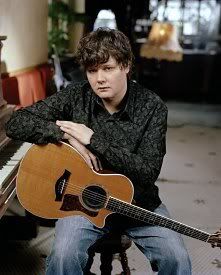 Ron Sexsmith
headlines an expanded hour-and-a-half edition of XM Radio's
From the Living Room to The Loft
tomorrow. The show airs February 4th at 6 PM EST and repeats February 6th at 10:30 PM EST and February 7th at 3 AM EST.
Taped January 11th at
the Living Room
in New York City, the program includes performances as well as interviews. Singer-songwriter
Mieka Pauley
opens for Sexsmith.
The good news is that XM Radio is available online; the bad news is that it's pay radio. However, a "no risk, no obligation, no credit card required"
free trial
is allegedly available. I can't vouch for XM Radio or the free trial, so use your own judgment (unless there's a good reason you shouldn't, in which case you should seek someone else's wise counsel.)
Sexsmith's tour is taking a breather for the rest of the month, and resumes March 1st in Mobile, Alabama, the same state where Pauley will next play. It's almost like she's opening for him again... almost, but not really.
Upcoming Ron Sexsmith
concerts
:
March 1 - Mobile AL - Mobile Civic Center Theater
March 3 - Atlanta GA - Atlanta Symphony Hall
March 4 - Nashville TN - Polk Theatre
March 6 - Tampa FL USA Tampa Theatre
March 7 - Fort Lauderdale FL - Parker Playhouse
March 9 - Durham NC - Carolina Theatre
March 10 - Asheville NC - The Orange Peel
March 11 - Charleston SC - Charleston Music Hall
March 13 - Charlotte NC - McGlohon Theatre
May 4 - Toronto ON - Massey Hall
Upcoming Mieka Pauley
concerts
:
Feb 6 - Birmingham AL - Zydeco (with Benjy Davis Proj & Chad Perrone)
Feb 7 - Atlanta GA - Smith's Olde Bar (with Benjy Davis Proj & Chad Perrone)
Feb 8 - Athens GA - Tasty World (with Benjy Davis Proj & Chad Perrone)
Feb 9 - Cape Carteret, NC - The Dive (with Benjy Davis Proj & Chad Perrone)
Feb 11 - Charlottesville, VA - Gravity Lounge (with Chad Perrone)
Feb 12 - Vienna, VA - Jammin Java (opening for Scott Miller)
Feb 13 - New York NY - Living Room (with Chad Perrone & Benjy Davis)
Feb 15 - Allston MA - Harpers Ferry -
Rock for a Remedy
(with Chad Perrone & Benjy Davis Proj)
Feb 16 - Rockaway NJ - Acoustic Cafe (opening for Chris Trapper)
Feb 17 - Normal IL - IL State Univ
Feb 23 - Newport KY - Southgate House (opening for Lucy Kaplansky)
Ron Sexsmith - From Now On
(available on
Retriever
)
There are a couple of free Mieka Pauley MP3s at
her website
.