Primal Scream, Godlike Geniuses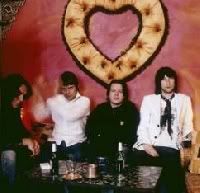 Primal Scream
have been chosen to receive
this year's Godlike Genius Award
at the Shockwaves NME Awards on March 1st.
The award is ostensibly given as a sort of lifetime musical achievement award - but for some reason NME Editor Conor McNicholas' announcement doesn't give the impression that anyone who works at NME necessarily likes their music.
He also began his announcement with what seems like either a stupid, tasteless joke or a stupid, dated reference, "Everyone at NME is really looking forward to welcoming Primal Scream as the Godlike Geniuses at this year's awards - no-one parties like Primal Scream."
He, or whoever at NME wrote the announcement, is likely thinking of the old Primal Scream, who used to engage in a lot of colorful drug-addled "partying". To at least one member of the group, that's part of a painful chapter of his past.
Frontman Bobby Gillespie
has quit drugs
. He said, "It's just kind of stupid really. You take things that initially make you feel good, and finally they make you feel bad and paranoid and sick, and I guess lead you into some bad situations." He added, "Anybody who has been addicted to drugs or alcohol, they're going to hurt people who are close to them."
Another indication Gillespie is no longer the partier McNicholas thinks he is: last month he wrote to his local council on behalf of those fighting longer hours for a nearby pub. He complained about the pub's
playing loud music after midnight and "attracting noisy, drunk people"
.
Presumably Gillespie's being honored for his band's music, not for how well they party or used to party. It might have been a stupid joke; it was definitely stupid.
The rest of NME's announcement isn't the tops either:
"They're a band who have had a massive influence on
our
scene. All
our
bands love them and after 24 years they've just had their biggest ever hit ('Country Girl' got to Number Five last year).
Our
awards are the last big event at the legendary Hammersmith Palais before it's reduced to rubble. Primal Scream may just do that before the bulldozers even get there." (emphasis added)
Thoughts:
1. Our, our, our. Ugh.
2. They own bands?
3. "Primal Scream" is mentioned once here, and weirdly. One of their songs is mentioned, and not praised or described. Its only importance comes from how well it sold. No mention of, say, the group winning the first Mercury Music Prize (for
Screamadelica
)
4. This doesn't say NME or anyone at NME likes the band. Maybe they don't, in which case points for honesty, but why are they getting the award?
It was left to Gillespie to say a few appropriate, actually-kind-of-descriptive words about his band. Of course he also said
he was honored - by the belated award
. "About ******* time, we've known it for years," Gillespie said. "It's a great honour to get the same award as a band like The Clash. It's a real honour."
NME did put Gillespie's statement (absent the cheeky asterisk-laden part)
on their site
, so at least some good writing about the band snuck into their piece: "I've always thought of what we do as an experiment, even from day one. That's the driving force in our band. We've never made the same record twice, like most bands. We just want to keep everything fresh and exciting."
Primal Scream - Star
(available on
Vanishing Point
)
Primal Scream - Kill All Hippies
(available on
XTRMNTR
)