227 - So Sassy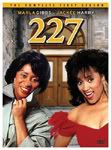 It's Groundhog Day, and there's much excitement over today's two forecasts of an early spring by a couple of the adorable critters. But let's not overlook that it's also February 2, 2007, a date which suddenly reminded me of the old sitcom
227
. I never saw it, and only know it starred Jackée and that she played someone sassy.
According to Wikipedia, the show was spun off from
The Jeffersons
and also starred its "sassy maid Florence Johnston".
Two
major, sassy characters? It must have been quite a program, and if there's anything to numerology, perhaps today is a
very

sassy
day.
Marla Gibbs - 227 Theme (There's No Place Like Home)
(available on
Television's Greatest Hits, Vol.6: Remote Control
)